10 tips for dining overseas and eating like a local
When it comes to food, everyone has an opinion about where to dine. However, the best option is to follow your own nose.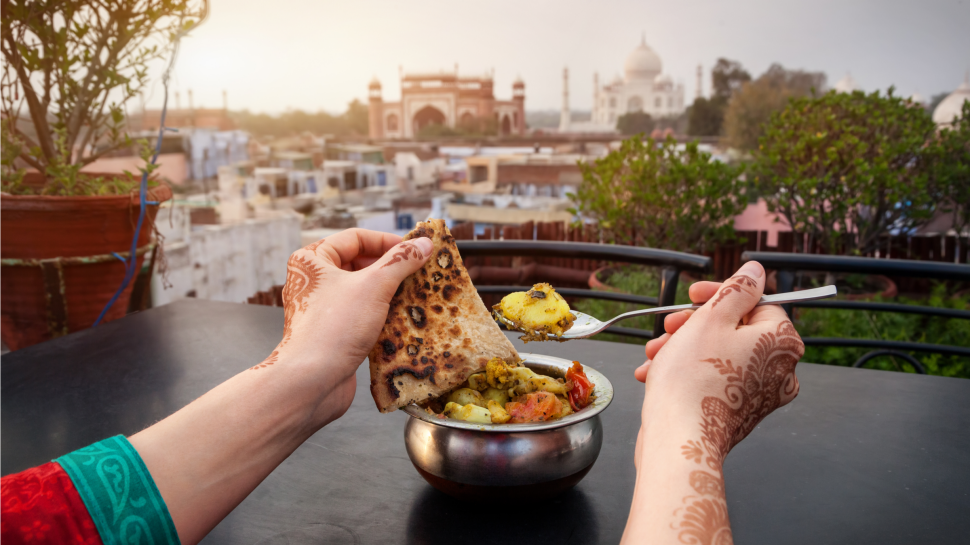 Some of the worst restaurants I've ever been to are some of the top rated online. Psychologically-speaking, popularity is actually how humans use social proof for mental shortcuts and it doesn't always indicate if something is good or not (only that we're all a bit lazy).
When figuring out where to eat when you're overseas, a Google search or Trip Advisor review is helpful as a blueprint, but don't treat the information too seriously - you might only experience a watered-down version of the real foodie culture available to you.
Instead, test out the following advice for ways you can make your holiday an extra delicious one.
1. Learn the lingo
Avoid stumbling over a foreign-language menu and ordering something you might not like by brushing up on some restaurant lingo before you head off. Your palate will thank you. Learn the words for red and white meat, fish, and some basic vegetables. Find out what the translation is for water, soft drink, beer and wine, or your favourite spirit. Read up on what the local delicacies are and what they're called. If you're still feeling overwhelmed, ask your waiter for a recommendation.
2. Keep your eye on the time
One very important thing to consider before you head out to eat is time: in Australia it's common to eat dinner between 6 and 8pm, but in Spain, Italy and South America, it's more like 10 or 11pm. In fact, most restaurants there won't actually open until 9pm. And in places like New York or London, which are 24/7 cities, you can usually get food whenever you want it - restaurants serve dinner as early as 5:30pm and as late as 2am.
3. Go for a walk

For food recommendations from a local, going on a walking tour of the city will get you some great suggestions. Not only will you discover some interesting history about the place you're visiting and see some interesting sights, your tour guide is a great resource for culinary insights.
They'll usually point out their favourite places during the tour, or you can ask them where the best place nearby for good food is at the end of the tour (you'll be pretty hungry by then anyway!). You can even go on walking tours dedicated to food alone. Simply search online for available walking tours and head to the meeting point at the time indicated.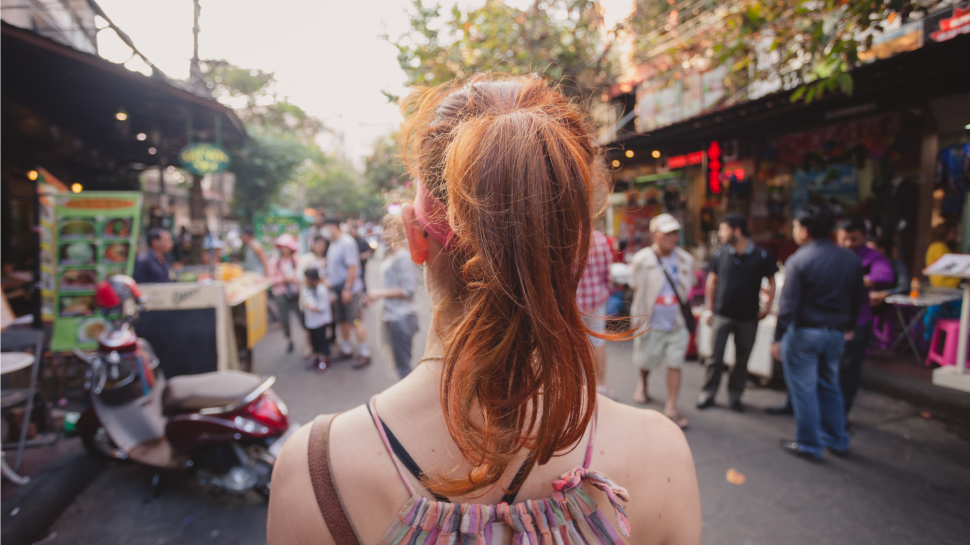 4. Eat where the locals do
Places frequented by tourists often have long queues and a pretentious atmosphere. Follow these golden rules for food discovery for a more authentic experience: use Google to find where the dining areas are; explore the surrounding streets and alleyways near the popular places; and look for unassuming venues populated by locals.
Don't let appearances deceive you. Behind shabby-chic facades, you'll find neighbourhood eating institutions with a strong sense of community. Rather than the assembly line, cookie-cutter vibe you get from some more well-known restaurants, the owners and staff at these smaller establishments really love what they do, and it shows. They've mastered their craft (usually from generations of foodie-loving family before them).
5. Discover the advantages of going solo
Flying solo is actually an asset when travelling. If you do want to hit a popular restaurant that's full, it's much easier for the staff to find you a seat at the bar or pop you on a communal table. It's a great way to meet new people (for more food recommendations of course!).
If you're feeling lonely, the aforementioned friendly neighbourhood favourites feel like a big, warm hug - just like going to your parents for a Sunday roast. Here, atmosphere is just as important as the food itself and you'll be nurtured both belly and soul.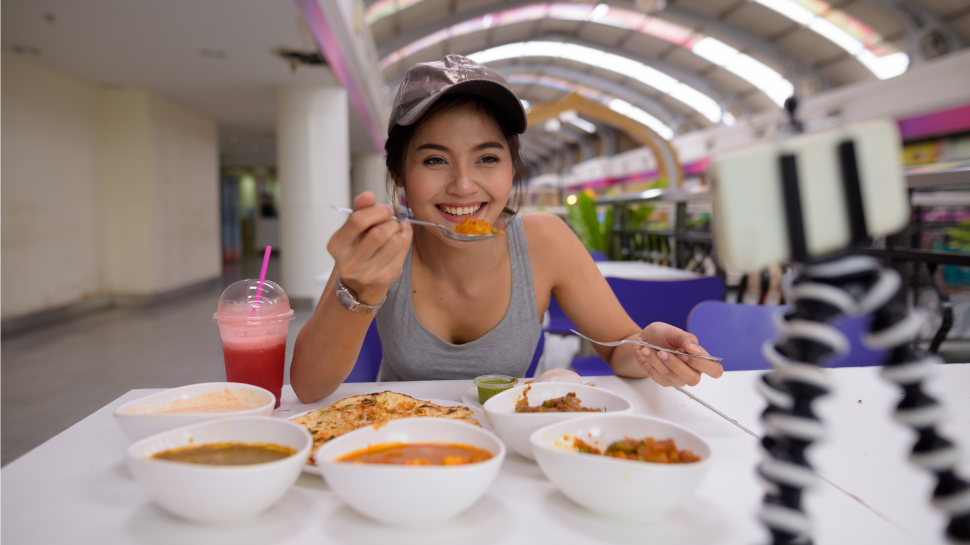 6. Seek out street food
I'll take street food over a restaurant any day. It's the perfect low-key food for when you're on the go and don't want to waste time dining. Some of my fondest foodie memories involve sitting on a milk crate in a dingy alley, drinking cheap wine out of a polystyrene cup and eating some spectacular local food served by someone wearing a tracksuit and thongs, usually all for less than AU$5.
Be open and unafraid to give different kinds of food a try (I've been to 30 countries and I've never gotten food poisoning from street food). You can find street food stalls at markets, parks and in the older, traditional parts of bigger cities. Try it in every place you visit as the kind of food will vary depending what part of the country you're in.


7. Check out the local supermarkets
If you're travelling for a long time, or have a kitchen available to you, it makes sense to save your pennies and shop at local supermarkets or markets. Sometimes I get sick of dining out when I'm travelling and just want to whip up something where I'm staying.
You don't have to cook anything too complicated, often all you need is to heat up something in the oven. Head to the deli section of the supermarket for things like savoury pastries, ready-made salads and pasta. Depending what country you're in, markets might source you better fare, especially fruit for snacking on during the day.
8. Take a cooking class
One of the best activities I did in Vietnam was to take a cooking class. First, we visited a market to learn about local ingredients, then we headed to a culinary school to make an entree, main and dessert. Rather than just observing, you're actually creating something and you get to eat it at the end.


9. Keep your etiquette in check
It's not just what you eat, it's how you eat it. We should all be familiar with basic etiquette (don't eat until the server has finished serving and all your companions have their food etc.). If your table manners leave a lot to be desired it may explain why people keep fielding your dinner invitations...
In a foreign country, though, it's more than just basic etiquette – certain dishes come with specific customs for tradition and enjoyment. Locals can be somewhat forgiving for tourists if you don't get it right, but it shows respect if you've done your research and are minding your manners.
10. Have a home-cooked meal
Sometimes restaurants stick with a few popular dishes, and you end up eating the same thing all the time, when in actual fact, there are a lot more culinary delights made in the home to explore. You might be lucky enough to be staying with friends or relatives overseas, where you'll experience more authentic meals. But if not, you can book a private meal by a home cook through Travelling Spoon.