Mt Fuji: 5 ways to see Japan's icon
When travelling in Japan, Mt Fuji is a must-see. Whether you stay in a nearby town for a few days or find Fuji from an observation deck, this iconic peak is beautiful from every angle.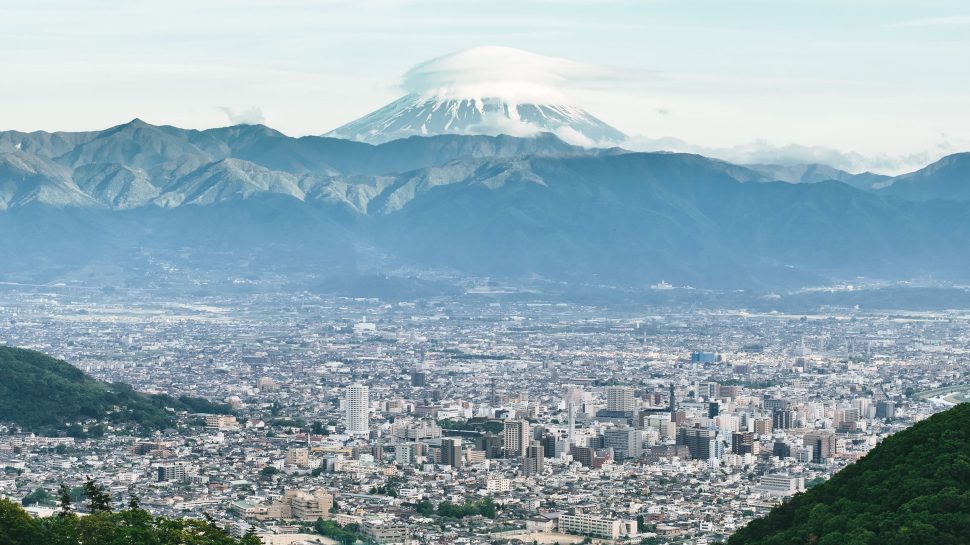 Japan's tallest mountain has provided artists with inspiration for centuries. A drawcard for any visitor to Japan, Mt Fuji can be enjoyed in a number of ways. From scaling the peak, to staying in a nearby town and viewing from afar, here are some ways to experience the majesty of Mt Fuji.
Lakeside location
Stunning views of Mt Fuji can be seen from all of the five lakes that surround the peak (Lake Yamanaka, Lake Kawaguchi, Lake Saiko, Lake Motosu and Lake Shoji), however the Lake Kawaguchi area might just be the most coveted spot of them all. Offering travellers museums, parks and gardens, hot springs and delightful boutique accommodation options, the small towns clustered around the lake located on the northern side of Mt Fuji offer the perfect place to retreat in the shadow of Mt Fuji.
While beautiful all year round, autumn is an especially wonderful time to visit this region as the warm amber tones of the surrounding foliage create a picture-perfect palette to frame the mountain. Typically held in early November each year, the area's annual autumn festival celebrates these colours with craft and food stalls set up amid the towering maple trees found in the hamlet. Lakeside hotels located at the base of the mountain are usually in demand, so book ahead to avoid missing out on bedding down at one of the best vantage points going.
Ocean vistas
Fancy some ocean vistas to go with your mountain views? Located in the Kanagawa Prefecture, the Shonan region is home to a collection of beaches custom-made for surfing. With a temperate climate and several surf breaks, this whole area is known as a hotspot for surfing, with surf shops, surf schools and resorts aplenty. While water sports are a huge focus in Shonan, so is Mt Fuji. Easily viewed from many of the beaches, visiting Shonan offers a rare view of Fuji that also includes the ocean.
The Hakone perspective
Easily accessible from Tokyo, Hakone is a popular destination for both domestic and international travellers to spend some downtime away from the big cities. Drawn in by the chance to relax in volcanic hot springs, visit ancient shrines and stay in traditional ryokans, Hakone has plenty to offer travellers keen on enjoying a slow paced break away from the crowds of the city.
Hakone also has many pockets that offer terrific views of Mt Fuji, if you know where to look. Driving along the winding Ashinoko Skyline is one of the best ways to view Mt Fuji while in the Hakone area. As this stretch of scenic road is private, all drivers need to pay a toll to drive on it, but the views are well worth the fee (that is around 600 Yen).
Fuji up close
At 3776 metres high, ascending Mt Fuji is only for those with a good level of fitness and a genuine desire to reach the top. While mountaineering experience isn't necessary, being prepared is. Open from July to September, there are several signposted routes that climbers can take to the top. Strategically placed huts provide a place to rest, eat and sleep along the way.
Being prepared to handle changing weather conditions is paramount, as the temperature at the top is often wildly different to the temperature at the base, so packing appropriate gear and clothing is essential. Warm layers, waterproof clothing, good hiking shoes, spare pairs of socks and trekking poles are all a good idea. While the climb may not be for everyone, scrambling to the top of mountain is the ultimate way for fit travellers to experience Mt Fuji up close.
Fuji on the fly
Don't have time to visit Mt Fuji? Luckily there are some sneaky ways to see the imposing beauty of Mt Fuji while in transit. Travellers heading from Tokyo to Osaka or Kyoto on the bullet train (known as the shinkansen) can nab great views of the mountain about an hour into the journey, especially if sitting on the right hand side of the carriage. Not catching the bullet train?
On a clear day, Mt Fuji can also be viewed from the centre of the city at Tokyo SkyTree. With floor-to-ceiling windows wrapped around the viewing deck, Mt Fuji can easily be spotted in the distance if there's little rain or cloud cover.
Whether you're planning to see Mt Fuji up close or from the sky, organise your travel insurance before you go.