An art-lover's guide to Las Vegas
There's more to Las Vegas than gambling and hedonism. The city also has a vast collection of contemporary art – you just need to know where to look.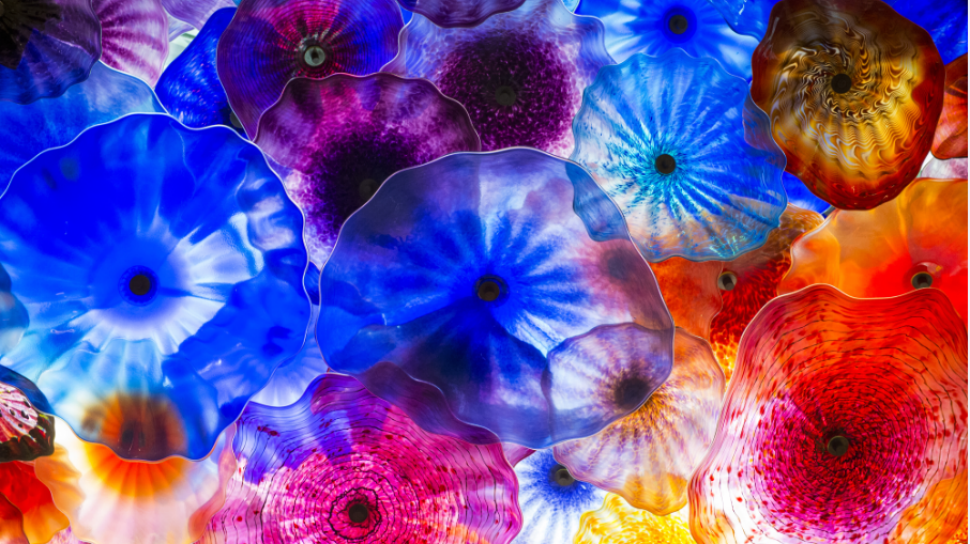 The stereotypes associated with a trip to Las Vegas are mostly true. To many, Las Vegas is a city of glaring neon, questionable bets, and free-flowing booze. The city's famous tagline – what happens in Vegas stays in Vegas – reinforces the city's brand as an escapist Disneyland for grown-ups.
The Strip, technically located in the neighbouring city of Paradise, brims with elaborated constructed fantasies. Themed resorts transport you to ancient Rome, ancient Greece, Paris, or New York, smack in the middle of the desert.
But look closer and you'll find works by renowned artists like Jenny Holzer, Jeff Koons, Maya Lin, James Turrell, and many others, as well as a vibrant scene for emerging local artists. Much of this art is housed in museums and galleries, but you can also find spectacular works hiding in plain sight. Art lurks in casinos, shopping malls, car parks and public spaces, so keep your eyes peeled. Here's a guide to discovering some of the city's artistic gems.
Bask in James Turrell's mind-bending lights
The Louis Vuitton boutique at Crystals, part of the Aria casino, is the largest in North America, but that's hardly the reason why it's worth a visit. It's also home to Akhob, a permanent exhibition by American artist James Turrell, who is renowned for large-scale installations that explore our perceptions of materiality, light, and space. Visiting Akhob is free, you'll just need to book ahead at least a month in advance – only four people can visit the installation at one time.
If you're familiar with Turrell's body of work, you'll know that many of his installations recreate the Ganzfeld effect, otherwise known as the total loss of depth perception. Turrell achieves this phenomenon by flooding a space with uniformly unmodulated fields of colour. The effect on the gallery-goer can be disorienting and mind-altering, casting one's sense of colour, space, and gravity in a (literal) new light.
If you can't secure a reservation at Akhob, you can also immerse yourself in Turrell's Shards of Color at the Crystals express tram stop east platform, which can also be viewed from the mall's ground levels through four cut-out windows that change colour at 20-minute intervals.
Art-hunting at the Strip's casinos
The Aria casino offers more than just five-star luxury suites. It's also home to one of the largest corporate collections of contemporary art in the world. What's more, it's all free to the public and housed within the Aria itself, its sister hotels, and common areas (a comprehensive list of the casino's collection can be found here (PDF 5MB).
At the Aria Resort and Casino's north valet pick-up, you'll find VEGAS, a 280-foot long LED installation by conceptual and installation artist Jenny Holzer that collects her texts from earlier works such as Truisms. Meanwhile, at the nearby Vdara casino lobby, you'll find a giant Frank Stella work (Damascus Gate Variation 1) to greet you.
A giant sculpture of a typewriter eraser, made from polyurethane enamel by Claes Oldenburg and Coosje van Bruggen, greets the public on the pedestrian bridge near the Mandarin Oriental. Artist Nancy Rubins' Big Edge – an open-air sculpture made from over 200 full-sized canoes and boats – hovers over Harmon Circle, surely a commentary on the Vegas' unique existence as water-loving metropolis in the middle of the desert.
Fans of the artist Jeff Koons will find his handiwork everywhere at the Wynn Las Vegas. Its owner, casino mogul Steve Wynn, is also an avid art collector. Wynn recently bought Koon's stainless steel sculpture of Popeye for a cool $28 million, which can be found at the entrance of the Wynn Theater, and he has previously displayed Koon's Tulips in Vegas, although that has since been moved to a Wynn casino in Macau. Koons' metallic aesthetic can also be seen in the casino's shopfront displays of Louis Vuitton.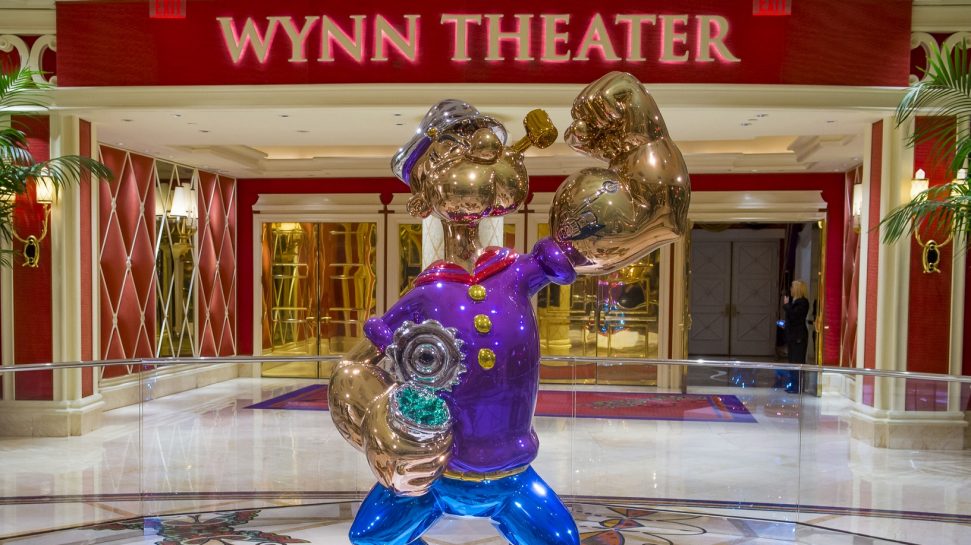 Emerging and establishing artists also show off their wares at the Cosmpolitan Las Vegas, which also boasts a collection of large-scale paintings, murals, mixed media works, sculptures, and installations. The resort's Starbucks is graced with a large installation by French artist and photographer Georges Rousse, which synthesises photography and architecture to great effect.
Gallery-hopping in Sin City
Downtown Las Vegas, often called DTLV by locals, is the city's historic centre and original gambling haven. Once a site of neglect, DTLV is undergoing a sustained economic and cultural revitalization effort.
Many tourists don't leave the Strip (or even their resort), but venturing downtown has its own rewards. If you're seeking out art by emerging artists away from the Strip's garish surrounds, downtown Las Vegas is the place to be. The city's industrial arts district is a 15-minute drive from the Strip, and provides visitors with a unique opportunity to witness Vegas' flourishing creative community in action.
At the Arts Factory, you'll find plenty of artist-run galleries and studios, as well as food and drink options to fuel your adventures. And, in true Vegas style, there are galleries and a wedding chapel at Art Square, which celebrates mid-century modern architecture in its meticulously restored buildings.
The most famous museum in Vegas looks at art of a different kind: the neon sign. The Neon Boneyard, also located in downtown Las Vegas, is dedicated to preserving the city's most treasured and iconic neon signs, such as the Golden Nugget, the Horsehoe, Caesars Palace, Lady Luck, and the Stardust, among many others. The Boneyard is an open-air museum, so make sure to bring a hat, sunscreen, and bottled water if you're visiting during the warmer months.

All visitors take a guided tour, which offers a fascinating glimpse into the origins, history and future of neon signage in the United States. You'll also learn about the legacy of Betty Willis, the designer of the 25-foot tall Welcome to Fabulous Las Vegas Nevada sign on the median strip at 5100 Las Vegas Boulevard South.