The hottest swimwear colours and styles of 2019
The summer holidays are about weekends down the beach, backyard cricket and lazy afternoons by the pool. Treat yourself to some new summer essentials with this round-up of the hottest women's swimwear trends for 2019.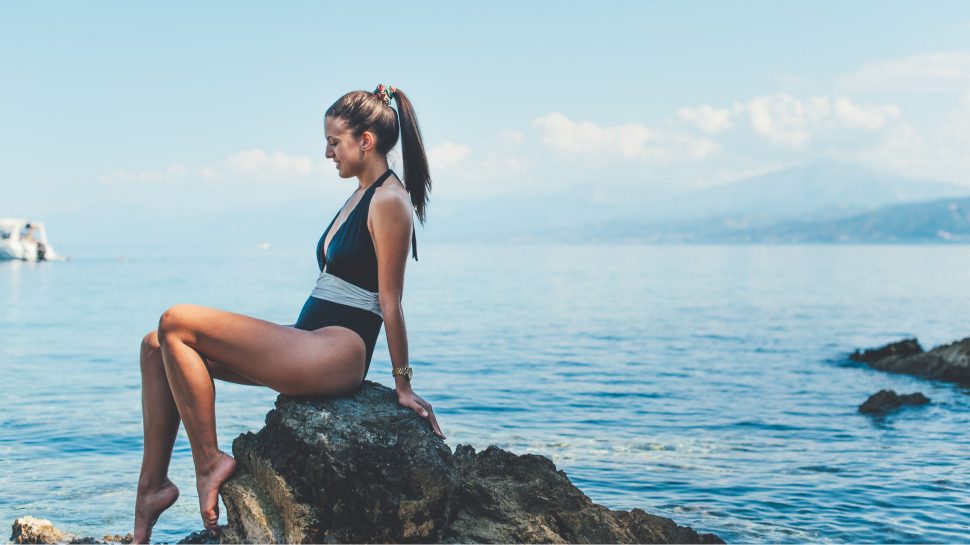 The Pantone Fashion Colour Trend Report - inspired by the fashion shows of New York Fashion Week - highlights the top colours to be featured in the upcoming season. According to their guide, these are the variety of shades you're likely to see from your favourite brands dotted around the beach this summer.
 Vibrant reds
Warm colours are nothing new for summer fashions. These rich, subdued, fruity reds and oranges are so delightfully fresh, you can almost taste them. (Living Coral is Pantone's 2019 Colour Of The Year)
Bright hues
2018 was all about 90s pastels but 2019 is bringing back 80s statements. These bold tones are sure to make you stand out on the beach.  
Reliable classics
An almost muted version of the above, these softer colours make a gentler contrast on the skin. You'll also see these featured in floral print and pattern bikinis.  
New neutrals
These foundational colours are perfect for layering, but these not-quite-blacks and not-quite-browns are still a staple on their own. You'll see a much greater spectrum of 'nudes' this season as well.


Pre-order The Fold Swim's 'the rise' bottoms in navy and mix and match with your favourite bikini top.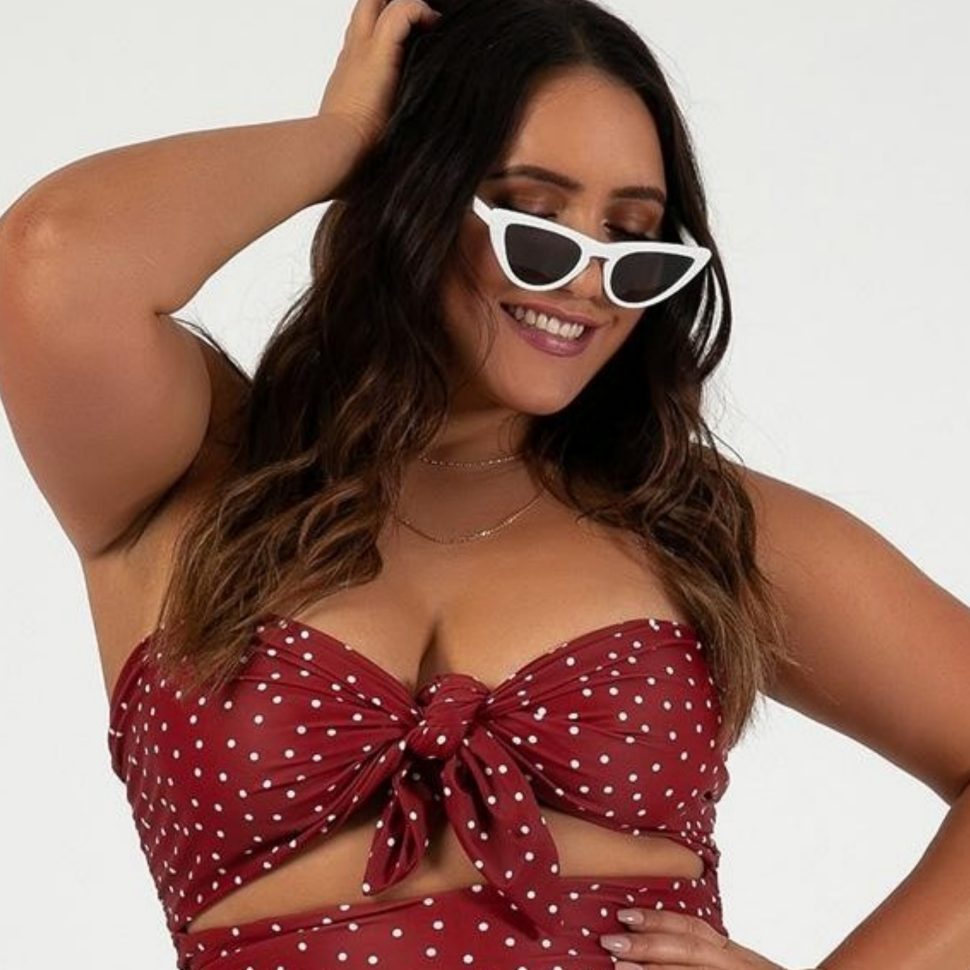 80s and 90s revival
Fashion trends always come back around. 2018 saw a lot of 90s staples recycled which will continue in 2019, along with some 80s flavours thrown in. 
Image from ShoPo
High-cut legs

Did the infamous 'Baywatch' swimsuit ever really go out of style? High-cut legs have been a favourite of past summer seasons and they are here to stay in 2019. The entire Swim collection by Meshki is all about these high-waists and 80s colours.
Animal print
Up until recently, reserved for a certain Spice Girl, classic leopard, tiger stripes, and snake print are all back on the runway. These fierce prints are getting a modern refresh, like the Elena set from Tigerlily.
Thrills and frills
Frills are back in a big way; from subtle embellishments to statement frills, this very flattering trim is popping up all over. Check out the Sunrise Frill set by Duskii from The Iconic.
Shapes and patterns
Iconic prints like polka dot, gingham and check never go out of style, but colourful geometric patterns made popular in the 80s are finally having their moment too. Shop the 80s Racer One-piece by Speedo from SurfStitch.
Knot ties
Knot-ties are simple, functional, and easy to wear. From knotted t-shirt fronts to side-tie bikini bottoms, this subtle feature makes an effortlessly cool look. Like the Belle One Piece in Chilli from Showpo.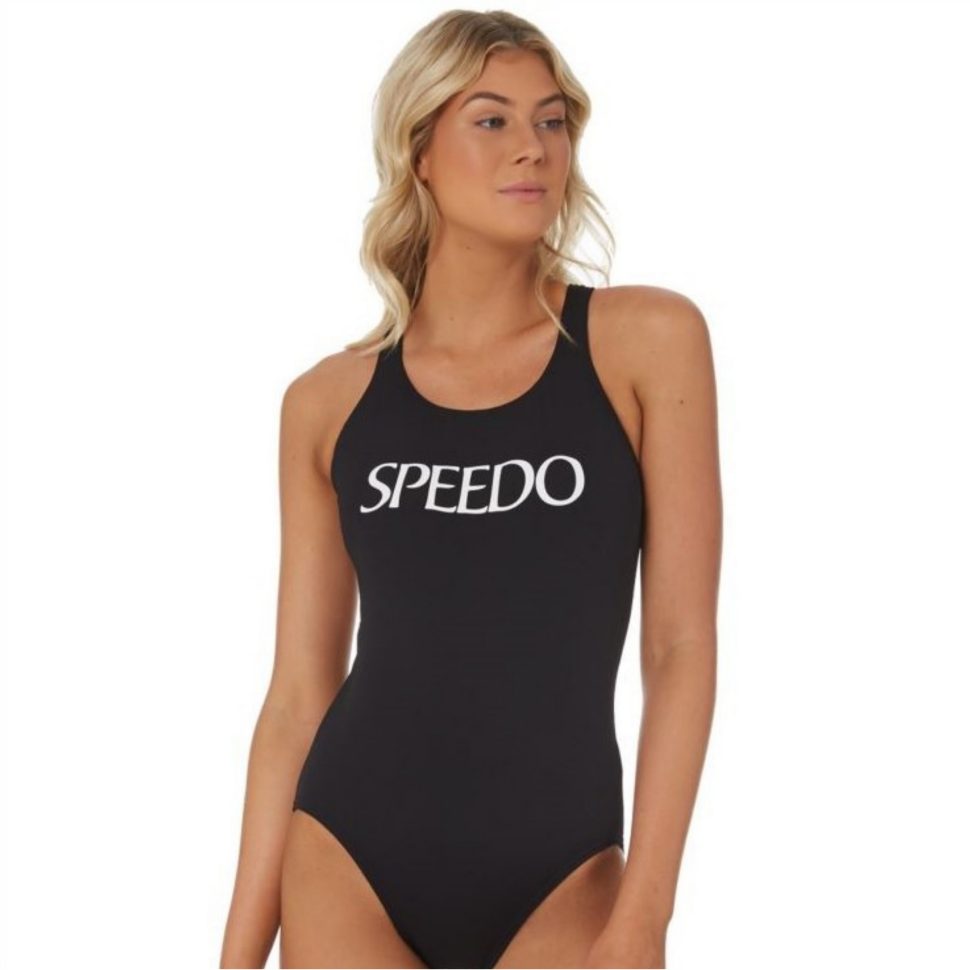 Sportif
Athleisure is not going anywhere any time soon. It's stepped out of the gym, gone to brunch, and its headed to the beach.
Iconic logos
Straight out of the sportswear-as-daywear playbook; the 90s oversized logo look was adopted by all of the major streetwear brands this year. Of course it was only a matter of time before it made its way into swim. Shop the 90s logo one-piece by Speedo from Surfstitch.
Rashies are back
It's so important to protect yourself from the harsh Australian summer elements. Sun-smart and stylish, rash vests are making a comeback in 2019. Check out the Lava Swim Top from Mara Swim.
Sleek paddle suits
The paddle suit was long overdue for a refresh. You can surf in style this summer with a massive range of functional and aesthetic paddle suits, like the Deep End Paddlesuit by Lulu Lemon.
No nonsense trim
High necks and zippers might be built with speed in mind for the athletes, but these looks will be popular by the pool in 2019. Check out the Find Your Wild Crop Bikini Top by Roxy.
Mesh cut-outs
Mesh provides breathability during a workout, and can easily add a little spice to a swimsuit. For a fresh take on full-coverage swimwear, shop styles with a touch of mesh in just the right places, like the Infinity One Piece from Jets.