What dress up theme suits you? Take our costume party quiz to find out
Costumes parties are a fun way to make your next birthday party extra memorable. The photos alone, of everyone dressed up in wacky attire, are worth any extra planning you might need to do. But with so many potential costume party ideas, how do you know what theme to choose?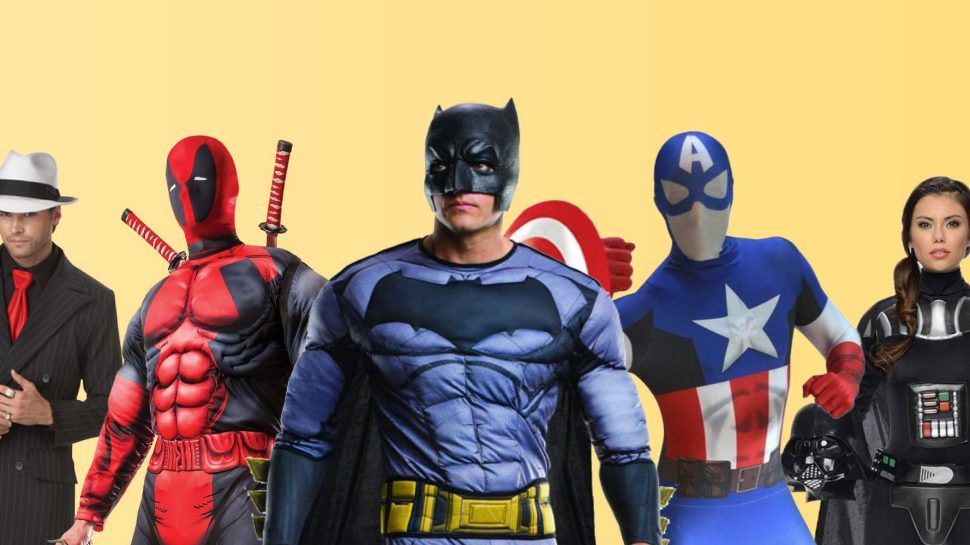 Firstly, your theme should be something that reflects you and your personality. Secondly, it needs to be interesting to your guests, something they can interpret in their own way too.
Take our quiz to find out what costume themes will be the perfect fit for you, and those around you, on your special day.
If you became stranded on a desert island, what book would you most want to have with you?

a) Workin' It! RuPaul's Guide to Life
b) Harry Potter
c) The Great Gatsby
d) Lord of the Flies
Your favourite way to spend a Saturday night is…

a) Partying at 'da club with my crew
b) Relaxing with a comic book after a day spent larping
c) Hosting a 3-course dinner at my house
d) Working on my plan for world domination
Your favourite movie is…

a) The Hangover
b) The X-Men franchise
c) Moulin Rouge
d) Cabin in the Woods
When you were a kid, what were you scared of most?

a) Being bored
b) Freddy Krueger
c) Losing your toys 
d) Other people
What is your day-to-day fashion look?

a) All the colours, all the patterns
b) Pop culture t-shirt & jeans
c) Frenchy-chic
d) Lots of black, with one statement piece
If you were a city, what would you be?

a) Ibiza, Spain
b) Tokyo, Japan
c) Venice, Italy
d) Bratislava, Romania
What's your favourite sporting activity?

a) Dancing
b) Video games are a sporting activity, right?
c) Tennis
d) Not the sporty type, but Roller Derby if I had to pick something
When out at a restaurant, you generally order…

a) Dumplings, stir-fry, whatever is cheap and cheerful before going out
b) Parmigiana, burger and fries, pizza
c) Freshly shucked oysters to start, duck confit for your main, and crème brulee for dessert 
d) Tapas with a matcha latte
And your result is...
Mostly A's: Let's go wild
You're pretty outgoing, and so are your friends. If you're up for some serious partying and lots of dancing, era themes will be your bag. Think 80s disco, 1920s flapper, 50s rockabilly, 90s grunge, and more. Duality is another theme that works well for a big bash: cops & robbers, angels & devils, trash & treasure. The only limit is your imagination.
Mostly B's: Cast of characters
You've always loved the idea of morphing into your favourite movie or TV characters. You're likely to go all out too, getting an elaborate costume, or even making your own. If you are passionate about one thing in particular, make sure it has wider appeal (Star Wars and Game of Thrones come to mind), then...really go for it. Deck out the whole venue in the theme and stay in character all night.
Mostly C's: Classy times
If you like things a bit more subdued and mature, stick with a classic cocktail party - you can't go wrong. You might also want to try a murder mystery theme, basically anything where guests have to frock and suit up. It does keep everyone more refined and on their best behaviour (you hope). Time periods work well too: Old Hollywood, Wild West, and Ancient Egypt.
Mostly D's: Quirky party
You're creative, left-of-centre, and like to keep things open to interpretation. By choosing an open-ended theme, your party will be unique and more of a surprise. You could have a letter party, where everyone has to come dressed as something starting with the letter 'L'. It'll help with conversation, as everyone tries to guess what some of the more obscure costumes are.
Looking for a costume? Check out costumebox.com.au, with 15,000+ items available, it's your one-stop-shop for costumes, party and fun.
When you've found the perfect outfit, get it shipped to a location that suits you with Australia Post's delivery options1. Choose a free 24/7 Parcel Locker, a post office or your PO Box.