Australian Legends of Children's Literature
The Australia Post Australian Legends Award honours individuals who are leaders in their field of endeavour, having dedicated their adult lives to their chosen pursuit, shaping Australian society and culture in the process.
This year's recipients are celebrated and award-winning authors – talented creators of narrative books and picture books for young people, from the youngest readers through to adolescents.
The Legends of Children's Literature stamp issue, released today, honours Mem Fox AM, Morris Gleitzman, Leigh Hobbs, Alison Lester and Shaun Tan. Designed by Jo Muré of the Australia Post Design Studio, the stamps feature a portrait of each Legend together with a photograph of one of their iconic publications.

Time
Audio
Visual
0:00
Lyrical music
A hand draws a picture of a child in pencil.
Hands flick through a colourful picture book.
Hands draw using a nib pen and ink.
A bald man nods thoughtfully as he reads a book titled 'Help Around the House' by Morris Gleitzman.

0:11
Mem Fox: In a book, children want comfort, they want joy, they want interaction, they want to laugh, they want to gross out, they want to feel exquisitely sad so that their hearts are broken - I mean, this is what literature does that nothing else can do for them.

A blonde woman wearing a purple jacket is interviewed.

Text: Mem Fox AM:

0:27
Leigh Hobbs: On the first page, basically, I map ...I say to the kids, "This is Leigh Hobbs's world, in words and pictures." Now, if they turn the page and they're engaged, they've accepted unconsciously... what my world is.

A white-haired man in a paint-splattered jacket is interviewed.

Text: Leigh Hobbs

0:43
Alison Lester: When the story starts to form in your head and you can... I'm not actually thinking of the words, but I'm thinking about what the book will look like, how the illustrations will lay out, and it's, um...yeah, it's really just like making a little movie in your head.

A blonde woman wearing a flowered top is interviewed.

Text: Alison Lester
0:56
Shaun Tan: My respect for children's understanding of imagery has just skyrocketed, and it's taught me a lot about how to work as an adult artist.

A man wearing black-framed glasses is interviewed.

Text: Shaun Tan
1:07
Morris Gleitzman: For me, writing a book is a delicious tension between knowing exactly what I'm doing and knowing exactly where I'm going and sometimes getting lost in the most wonderful ways.

The bald man is interviewed.

Text: Morris Gleitzman
1:20
Mem Fox: What I say about a book of mine is,

Mem Fox opens her book I'm Australian Too.

1:22
if a child's heart is not changed from the first page to the last page, if the heart is not changed, the book won't grab them.

Back to Mem Fox talking to camera.

1:32
"My dad grew up in Darwin, my mum in Humpty Doo.

Mem Fox reads from the book.

1:36
Our mob's been here forever - now we share the place with you. How about you?"

Back to Mem Fox talking to camera.

1:41
Leigh Hobbs: I've always had a passion for creating characters, not necessarily for kids' books.

Using a nib pen and ink, Leigh Hobbs draws the big shaggy head of a monster.

1:48
I mean, the passion has never really been for kids' books. It's just that I fell into that and they're an ideal vehicle for how I think,

Back to Leigh Hobbs sitting down in his art room.

1:59
and they've been a wonderful vehicle for me to give my characters a life.

Leigh Hobbs flicks through the pages of one of his books.

2:06
Shaun Tan: "The rabbits came many grandparents ago.

Shaun Tan holds the picture book 'The Rabbits' by John Marsden and Shaun.

2:10
At first, we didn't know what to think. They looked a bit like us.

Shaun reads from the book.
2:13
There weren't many of them. Some were friendly."

A picture shows a large rabbit in a suit collecting a lizard.

2:17
With a book, children move on to the next image.

Shaun is shown flicking through the pages of The Rabbits.
2:19
There's no set duration. They're not captured. They're free to move through the book. And I love picture books, 'cause they're so short.

Shaun sitting and talking to the camera.
2:28
Picture books work forwards and backwards too. They're a bit different from novels. Kids just look at it and go,

Back to footage of Shaun flicking through the pages of The Rabbits.

2:32
"What an interesting shape! That reminds me of this, and that." And that's how you're meant to look at a picture.

Again back to the original view of Shaun sitting and talking to the camera.

2:38
Alison Lester dips a paintbrush into a glass bowl of water.

2:40
Alison Lester: I always say it's a perfect job for a

Alison dips brush into violet paint.

2:42
control freak to be the author and the illustrator. I'll sit down with a bit of paper like this and just start sketching out what I think the main character might look like.

Alison Lester is now shown at her desk drawing with a pencil.

2:51
I could draw them or times,

Alison adds colour to drawings of a dog and a mouse.

2:54
just really quickly, sketchily,

Close up of Alison's face
2:57
just thinking, "Oh, no, those ears are too big.

Alison is again shown painting
3:00
What about trying a squarer body?"

Shot of Alison's book Magic Beach
3:02
And I can probably spend days doing that.

Back to Alison at her desk talking to camera.

3:04
It's the most frustrating part of my creative process,

Alison adds colour to her drawing of a mouse and dog.

3:09
is actually getting that right.

Back to Alison at her desk painting and drawing.

3:12
Morris Gleitzman: From a very young age, I had secret friends.

Help Around the House by Morris Gleitzman lies on black fabric.

3:14
If my parents took me on a trip as a very young kid, I would in my head be writing postcards to my secret friends about what was happening, what I hoped might happen, and occasionally - I'll confess this - about things that hadn't actually happened but I thought it would have been good if they had.

Morris Gleitzman is interviewed.
3:33
Mem Fox: Now, I know you won't believe this, but I don't have an imagination, really. OK? I need

Mem Fox is interviewed.

3:38
an original idea from life. I can then reimagine that idea. But I am not the kind of writer who

The colourful covers of some of her book appear - Koala Lou, Where is the Green Sheep?, Ten Little Fingers and Ten Little Toes.

3:47
sits down in the morning and says, "Right. I'm going to write a story about blah blah." Because if I do that, it's bound to fail. It has to be something that has touched me somehow.

Back to Mem Fox interview.
3:57
Lyrical music
Stuffed toys of the yellow monster and a girl sit side by side on a shelf.

3:58
A sheet of vibrant book covers by Leigh Hobbs hang on a wall. Camera pans over some of Leigh's drawing tools.

4:00
Cut-out drawings of scarred orange cats are pegged on a line.

4:01
Leigh Hobbs: The thing in my head that I love employing

Leigh is drawing at his desk.
4:06
doing these books is giving the characters life. To me, I love that. I...I know how

Interview with Leigh.
4:14
Mr Chicken would respond or react in any sort of situation that you could name. You could say anything and I could draw it.

A selection of books by Leigh featuring the yellow monster are titled Mr Chicken Goes to Paris, Mr Chicken Lands on London, Mr Chicken Arriva a Roma are shown.

4:22
I think that's what engages the kids - that these are real characters. They're not just two-dimensional.

Back to interview with Leigh.
4:28
Alison Lester: I think you probably can't help the way you write. And, you know, whenever you read something, you can sense what the writer is like

Alison Lester is interviewed.

4:34
by the way they see the world and the way

She looks through picture books. A horse running.

4:37
they express themselves, and I think these books that I do that are kind of

Picture book showing children play in the sea.

4:42
soft, cosy, welcoming books,

On the cover of Ticky's Bad Day a cat rides a scooter.

4:43
it's just the way I kind of exist in the world.

The cover of the book Imagine is crowded with animals.

4:45
Shaun Tan: My tip for encouraging kids to fall in love with reading is the same as falling in love with drawing or writing -

Shaun Tan is interviewed.

4:52
is just to focus on things that they love. And so constantly expose them to new things,

His books Rules of Summer and a page from it are displayed. The page shows a picture, a huge eye fills the visor of a helmet being worn by a child.

4:57
but it should always be things that they are interested in, that they're passionate about,

His books The Lost Thing and a page from it are displayed. The page shows a man throwing Christmas decorations into a vat of tentacles.

5:02
and most importantly, that reflect on problems that they're experiencing in their day-to-day life, because that's what kids are interested in.

Back the Shaun Tan is interviewed.

5:08
Morris Gleitzman: Kids reading can help prepare them for the world that's in front of them.

Morris Gleitzman is interviewed.

5:14
I discovered about 30 years ago that when I wrote characters who were 10, 11, 12 years of age, they were in what I think is the most fascinating time in all our lives.

A selection of Morris's books are displayed - Soon, Funny Stories, Help Around the House, Maybe and Grace.

5:26
This generation of kids are probably facing more challenges as they go into their adult lives, and we need to help equip them.

Back to Morris Gleitzman is interviewed.

5:33
An "Australian Legends" postage stamp features a photo of Mem Fox and the cover of Where is the Green Sheep?

5:38
Mem Fox: To be given this honour of the Australia Post stamp...is... you know, well, it makes me feel tearful. I'm so honoured, you know, to have it happen to me.

Back to the interview of Mem Fox.
5:50
Alison Lester: A stamp! I'm gonna be on a stamp! (LAUGHS)

On a stamp Alison Lester smiles beside the cover of Magic Beach.

5:50
And I wasn't supposed to tell anyone, but I told my husband straightaway, and he was like, "You're kidding!" (LAUGHS) Yeah, really, really honoured. It's just a fabulous thing to happen.

Back to Interview with Alison Lester.
6:06
Leigh Hobbs: I'm actually pleased that my dad's still around to, uh...

Leigh Hobbs's stamp features Mr Chicken Goes to Paris.

6:11
to be... He's probably more excited than me. He's 95. And Dad was the one that - you know, Mum and Dad - Dad was the one that, as a little boy, you know, fostered my love of art and bought me books and paper and stuff, so, you know, it's good that he's...he can see that all that slog was worthwhile.

Leigh Hobbs is interviewed.
6:32
Shaun Tan: I think it's kind of nice and a little bit poetic

The cover of 'The Lost Thing' appears on Shaun Tan's stamp.

6:37
to be appearing on a stamp, because of the number of stamps that I've used just in my early career, in getting my work out, actually being able to send samples to publishers and saying, you know, "This is who I am and this is what I do."

Shaun Tan is interviewed.
6:51
Morris Gleitzman: The post office has allowed

The stamp for Morris Gleitzman includes the cover of Once.

6:56
millions of Australians who don't see themselves as writers to share intimacies using words. I mean, I think there's more good and important writing has passed through Australia Post than any of the great publishing houses in this country. And so it's a bit special for a writer to find themselves part of that legend.

Morris Gleitzman is interviewed.
7:23
Voiceover: We celebrate the Australia Post Australian Legends Award for 2019.

The red Australia Post logo appears on a white screen.

7:25
Lyrical music
Text: Australia Post Legends Awards, 2019.

7:37
Music fades
Screen fades to black.
7:39
Video ends.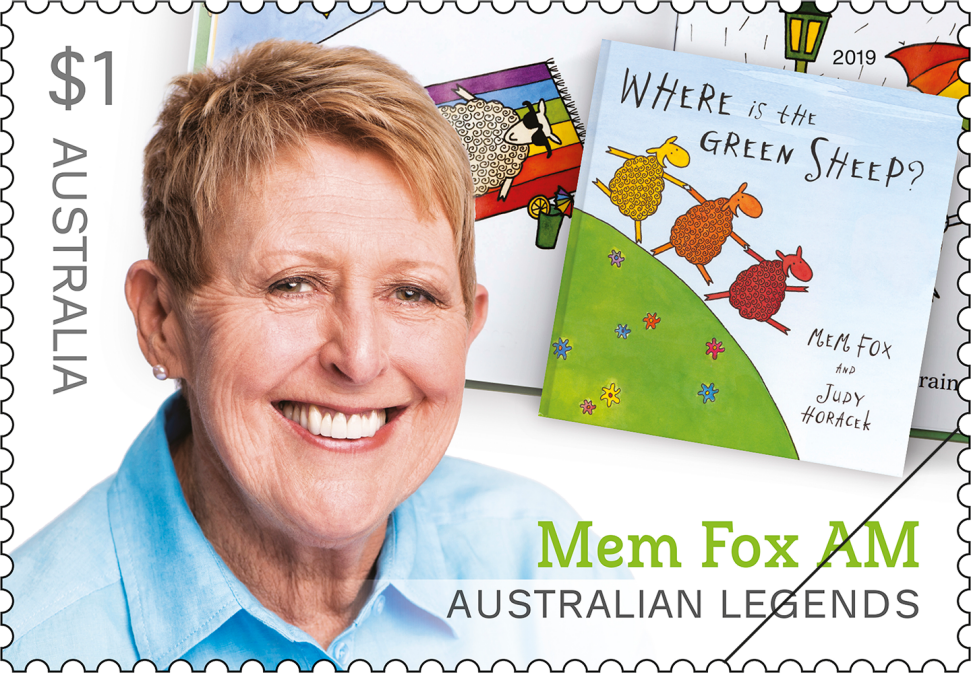 Mem Fox AM
Born in Melbourne in 1946 to missionary parents, Mem Fox AM (born Merrion Partridge) was raised in Rhodesia (now known as Zimbabwe) from her first year. There she got to experience not only the delight of being brought up with friends from different backgrounds, but also the racism that structured Rhodesian society, including the segregation of schools. She left this adopted homeland for England in 1965, to attend drama school in London. When she eventually returned to Australia in 1970, Fox settled with her husband in Adelaide. It was in South Australia that her career shifted focus from performance to literacy, studying children's literature at Flinders University. Fox became interested not only in children's literature per se but also in the field of literacy – the science of how children best learn to read and write. As a literacy specialist, she began teaching at Flinders University School of Education from 1973, becoming an associate professor until her retirement from this position in 1996.
Fox's first book, Possum Magic, was written during her own university studies. The children's picture book was rejected nine times over a five-year period before being picked up by Adelaide-based Omnibus Books and published in 1983. If those prospective publishers missed the story's true appeal and value, her young readers did not: Possum Magic has become the highest selling children's book in Australia, with close to five million sales worldwide over the 35 years that it has been in print. Since that first success, Fox has gone on to write more than 40 books (including five non-fiction titles for adults), with the primary readership for her books aged up to seven years. She has worked with a range of talented illustrators and her work has been translated into 21 languages. With Judy Horacek she created Where is the Green Sheep?, the cover of which is shown in the stamp design. Published in 2004, this title was winner of the KANGA Children's Choice Award, KOALA Children's Choice Award and YABBA Children's Choice Award, all in 2006.
Fox has received many other awards for her books and for her contribution to literacy. These include the NSW Premier's Ethel Turner Prize (1984, Possum Magic), the Dromkeen Medal (1990), Alice Award (1984), Centenary Medal (2001), Children's Book Council of Australia Book of the Year (2005, Where is the Green Sheep?), Speech Pathology Australia Award (2005) and the Children's Language and Literature Achievement Award (2007). She was made a Member of the Order of Australia in 1993, South Australian of the Year in 2003, became a finalist for Australian of the Year in 2004, and has been awarded three honorary doctorates (Wollongong University, 1993; Flinders University, 2004; and University of Technology, Sydney, 2011).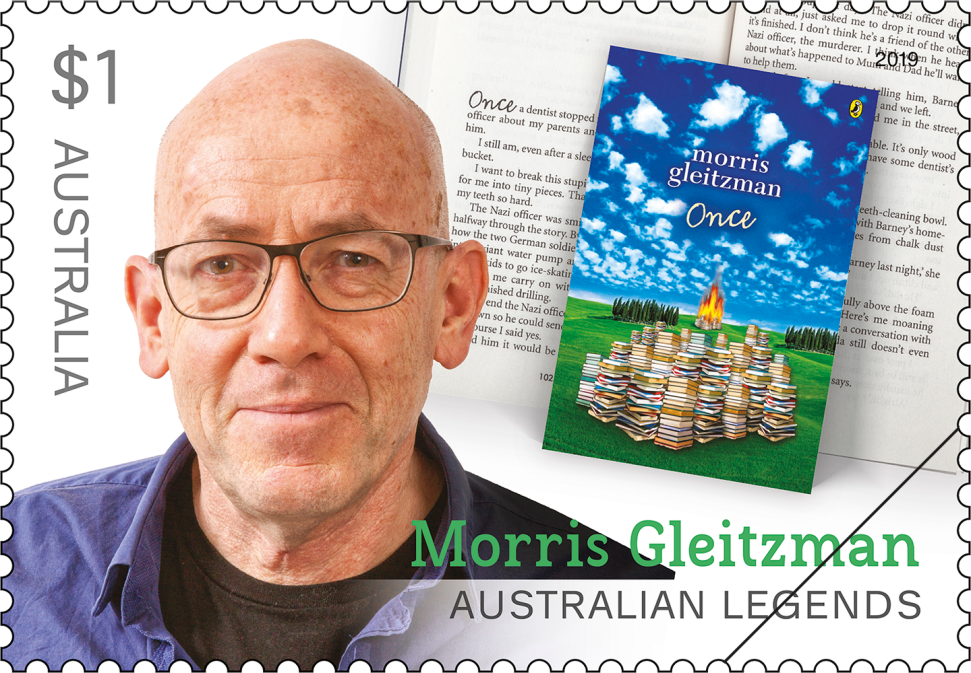 Morris Gleitzman

Born in Sleaford, England, in 1953, Morris Gleitzman arrived in Australia with his family as a 16-year-old. He studied professional writing at Canberra College of Advanced Education (now the University of Canberra) before spending 10 years writing for the screen, including for the Norman Gunston Show, from 1978 to 1983, and for a young audience, with the television films The Other Facts of Life and Second Childhood. While Gleitzman is known as an author of fiction for children and young readers, he also wrote a regular column for the Good Weekend magazine in the Age and the Sydney Morning Herald for many years, with several collections of these columns published in book form.
Since the publication of his first children's novel, The Other Facts of Life (1985), which started out as a screenplay, Gleitzman has written around 40 titles for young readers. His second book, Two Weeks with the Queen, was not only an international bestseller but also adapted into a successful stage play. His books appear in many languages, having been published in some 20 countries. The themes of his books are often serious, with his young protagonists facing some of life's great challenges, but Gleitzman is a master at filling these stories with humour, optimism and irreverence. This talent makes him one Australia's most read authors by 8- to 12-year-olds. In his novel Once, shown in the stamp design, friendship is a driving theme, explored through the resilient young Jewish protagonist Felix and his encounters with others in the hostile setting of wartime Poland.
Gleitzman has won many awards for his books, including the Children's Book Council of Australia Book of the Year Award for Soon (2016, Younger Readers), the YABBA Awards for various titles (Young Australians Best Book Awards, 1993, 1998, 1999, 2007, 2009, 2010, 2011, 2013 and 2016), International Success Award in the Australian Book Industry Awards for Once (2011), and he has been nominated several times for the Astrid Lindgren Award, an international children's literary award established by the Swedish government to recognise excellence in children's literature. His book Now was shortlisted for the 2011 Australian Prime Minister's Literary Award for children's fiction. In 2018, he was made the Australian Children's Laureate for 2018–19, an appointment that recognises his contribution to literature for young people and his capacity to fire up the passion of young readers right around the country to embrace a deep love of reading, writing and learning.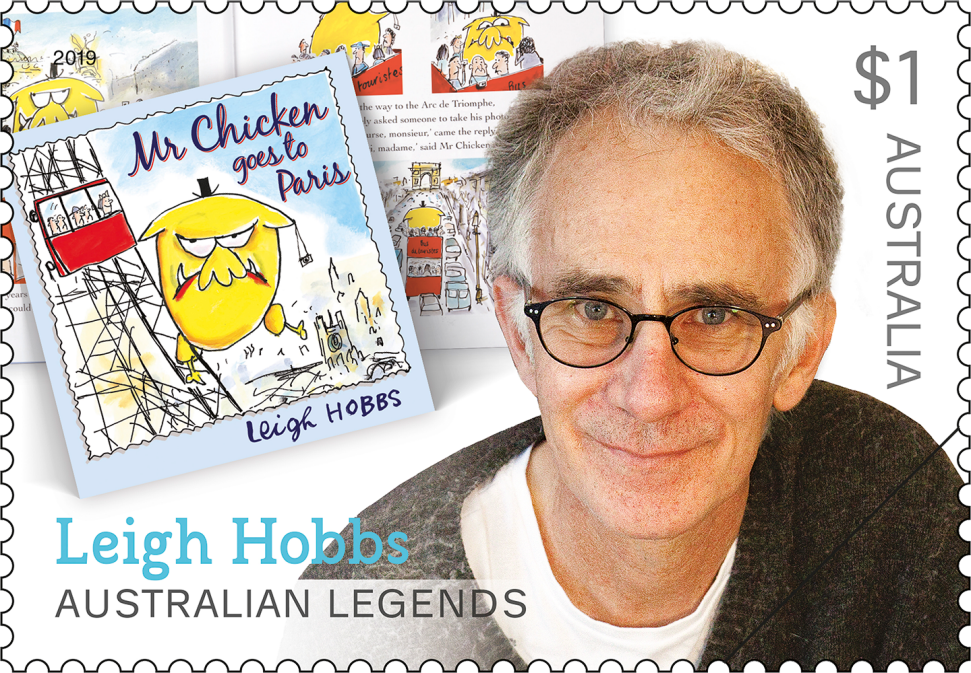 Leigh Hobbs

Author and artist Leigh Hobbs was born in Melbourne in 1953 and raised in Bairnsdale, in East Gippsland. His talent for art was evident at a young age, so it was only natural that Hobbs undertook art studies once he finished secondary school, completing his studies at the Caulfield Technical Institute School of Art (now Monash University) in 1973. As well as writing and illustrating his children's books, Hobbs has been a freelance cartoonist for the Age and has created paintings, drawings and ceramic sculptures as part of his studio practice. (His Flinders Street Station teapot is held in the National Gallery of Victoria collection.) Leigh was also a secondary school teacher for 25 years.
In his stories, Hobbs uses words and pictures in an idiosyncratic fashion, with the words saying one thing and the pictures something else. His first book, Old Tom, was published in 1994, and crotchety Old Tom has gone on to star in seven more books and a popular animated television cartoon series. Other recurring characters who populate Hobbs's more than 20 books are are Horrible Harriet, Fiona the Pig, Mr Badger, the Freaks of 4F and the globetrotting Mr Chicken. The latter, enjoying a Parisian getaway, appears in the stamp design.
Hobbs has won many of Australia's children's choice awards for his books and has been shortlisted for the Children's Book Council of Australia Book of the Year Awards (2002, 2003, 2010 and 2017) and the Prime Minister's Literary Award (2010). He was appointed the Australian Children's Laureate for 2016–17, an honour conferred by the Australian Children's Literature Alliance. As Laureate, he traversed the whole country, from one side to the other, to enthusiastically spread the word of literature's value and pleasure to a diverse school audience of thousands of children.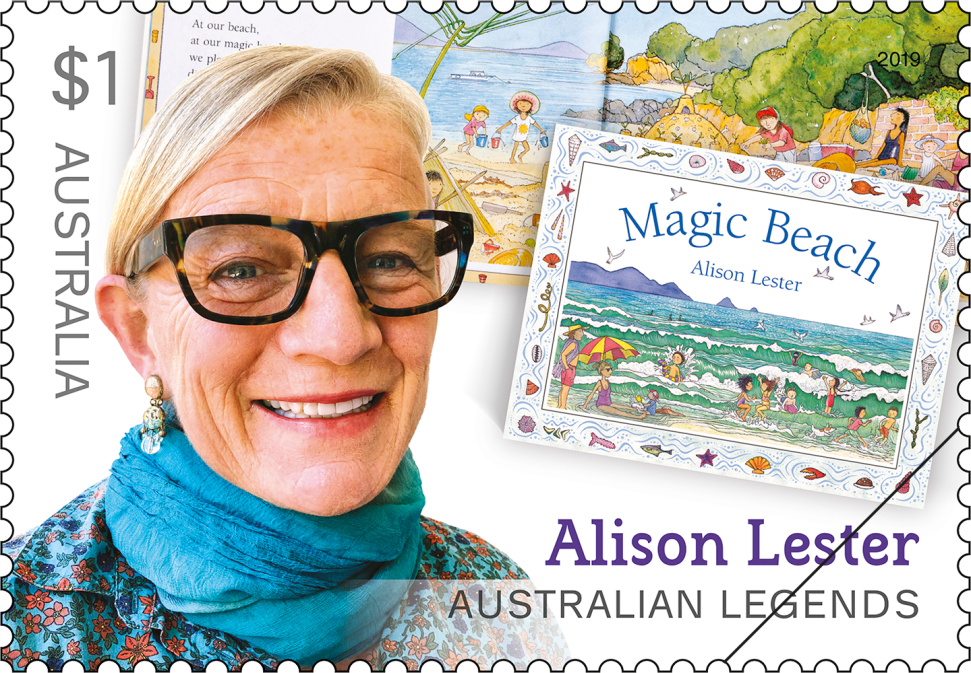 Alison Lester
Alison Lester was born and raised in Foster, in southern Victoria, in 1952, and continues to live in Gippsland. Her upbringing in this rural idyll – free to ride horses and to explore her environment – has shaped her sharp observational powers and her ability to bring imaginative and everyday worlds together. Alison Lester's stories encourage children to believe in themselves and to celebrate the differences that make them special. An author and illustrator, Lester has created more than 25 picture books for a young audience, and is the author of two popular novels for young adult readers, The Quicksand Pony and The Snow Pony, the former becoming a bestseller. Family and nature are the most important themes in her work – loving and caring for the world and its people. Her books have been published in many languages and are loved by children around the world.
Before turning her hand to children's literature, Lester trained as a secondary teacher at Melbourne Teachers College during 1971–75, specialising in arts and crafts. As well as teaching for a period, she applied her hand to illustrating books for other authors from 1979, and then wrote her first children's book, Clive Eats Alligators, published in 1985. The artworks that accompany Lester's stories are wonderful graphic evocations created largely in pencil and watercolour.
Lester has been the recipient of many prestigious awards for both individual book titles and for her broader contribution to children's literature and literacy. Her several awards include Children's Book Council of Australia awards for Are We There Yet? (Winner, 2005), Running with the Horses (Honour Book, 2010), Sophie Scott Goes South (2013, Honour Book), Noni the Pony Goes to the Beach (2015, Honour Book), The Very Noisy Baby (Honour Book, 2018) and, with Coral Tulloch, Small Island: The Story of Macquarie Island (2012, Eve Pownall Award for an information book).
Lester was appointed the inaugural Australian Children's Laureate in 2011, which allowed her to take her passion for stories and storytelling to young audiences across the country, helping kindle their love of literature and learning. She is involved in many community art projects and spends part of every year travelling to remote Indigenous communities, using her books to help children and adults write and draw about their lives. She was awarded the Dromkeen Medal in 2016 for her significant contribution to advancing children's literature, and has been twice nominated for Sweden's prestigious Astrid Lindgren Memorial Award.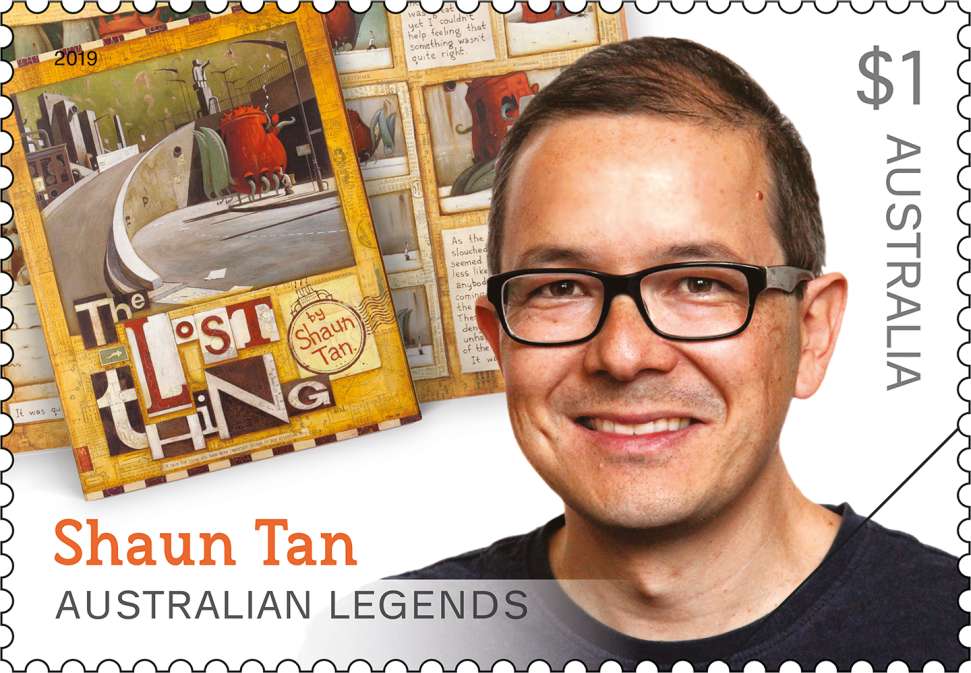 Shaun Tan

Born in Fremantle in 1974, author and artist Shaun Tan was brought up in the northern suburbs of Perth, where his talent for observation and drawing was first expressed through illustrating poems and stories. With an interest in art and storytelling evident, it was perhaps inevitable that he would study fine arts and English literature, graduating from the University of Western Australia in 1995. Since then, he has refined his distinctive authorial voice through his combination of incisive words and often-fantastical illustrations.
Tan is not easy to categorise as a children's author, as his readership ranges over children, young adults and older adults, with the deceptive complexity of his "picture books" guaranteeing their broad appeal. While at first glance his narratives appear straightforward and their language simple, they soon reveal multiple dimensions and an understated profoundness. The stamp design includes the 2001 book The Lost Thing, which is a good example of this, being a meditation on isolation, empathy and belonging, and one that accommodates visual references to renowned artworks.
Many of Tan's books have been published in several languages for international markets. He has won industry accolades for his literary endeavours, including Children's Book Council of Australia awards for The Rabbits (1999, Picture Book of the Year), Memorial (2000, Honour Book), The Lost Thing (2001, Honour Book), The Red Tree (2002, Honour Book), The Arrival (2007, Picture Book of the Year), Tales from Outer Suburbia (2009, Older Readers Book of the Year) and Rules of Summer (2014, Picture Book of the Year); the New South Wales Premier's Literary Awards for The Arrival (2007, Book of the Year); the Western Australian Premier's Book Awards for The Arrival (2006, Premier's Prize and Children's category) and Tales from Outer Suburbia (2008, Young Adults category); and the South Australian Premier's Book Awards for Tales from Outer Suburbia (2010, Premier's Award and Children's Literature category). In 2010, Tan was awarded the Dromkeen Medal for his role in Australian children's literature, and in 2011 he received the prestigious Astrid Lindgren Memorial Award (Sweden) for his contribution to international children's literature. Being a creator of imaginative works that cross into fantasy, he has also received Aurealis, Hugo and World Fantasy awards, as well as a major international gong with an Oscar for the film adaptation of The Lost Thing.