Delivering on your post-peak promise
After an extraordinary year for online retail, are you ready to make the most of the eCommerce momentum in 2021? This guide to post-peak reviews can help you assess your supply chain's strengths and vulnerabilities, so you can set priorities for the year ahead.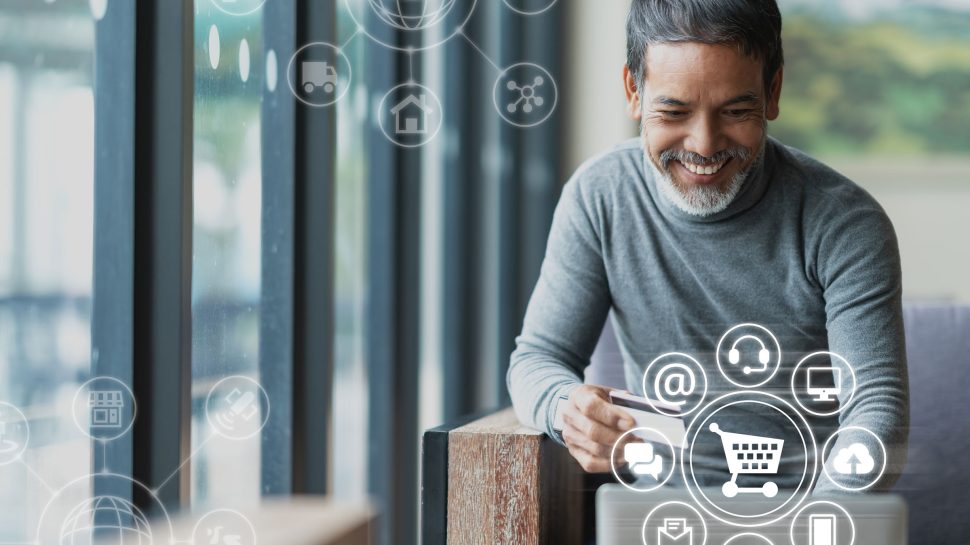 Key points
2020 was a record-breaking year for Australian eCommerce, with online sales up 40% YOY on Cyber Weekend alone.1
The significant shift in volume put supply chains under pressure – from freight, warehouse and fulfilment operations to technology and customer experience.
Taking time to review your operations can help you find new ways to build in efficiency and resilience – and continue delivering on your customer promise.
With five years of growth in just five months, the momentum of eCommerce has been astounding. And with an extra 200,000 households now shopping online, and an increase in purchase frequency,2 it's quite possible these new buying habits are set to stay.
This presents enormous opportunities for retailers. But it's also important to understand the true cost of building extra flexibility into your supply chain to account for these opportunities. 2020 taught us it's difficult to adapt a lean 'just in time' model to surges. If roads are cut off due to bushfires, your logistics partner succumbs to a cyber attack, or a global pandemic causes unpredictable global shipping delays, you need a Plan B.
But that Plan B can come at a cost. Local suppliers may be more expensive, and additional delivery partners need to be managed. Business continuity planning, including risk mitigation and cost optimisation, needs to be balanced with growth opportunities. Swing too far either way, and you risk losing long-term sustainability.
To find that balance, it's a good idea to take the time to review your growth aspirations, and take stock of what worked and what didn't in the previous year.
A guide to supply chains
First, make sure the right people are in the room. You'll need perspectives from your buying, eCommerce, digital, customer experience and service teams, IT, warehouse and freight managers and your Chief Operating Officer or equivalent. It's also a good idea to include some key suppliers and partners, including your Australia Post Account Manager.
When we took fast-growing school wear business partner PSW Quality Apparel through this process late last year, we worked through nine focus areas with the team, from labelling cartons in China to setting Service Level Agreements across the business. CEO Anthony Sherpin told me "it made a huge difference to the business."
"We knew what problems there were, and this allowed us to go, 'Hey, let's focus on this and let's do this,'" says Anthony.
Consider these five levers as a starting point when looking at areas for improvement.
1. Freight optimisation
In 2020, one interesting trend we saw was physical stores temporarily becoming fulfilment centres. This certainly helped them keep retail staff busy during lockdown, and improve delivery time by shipping from locations closer to customers. But these 'ship from store' models may need more proactive thought to be a sustainable long-term strategy.
For example, fashion retail icon Cue spent several years getting its 'endless aisle' strategy in place before COVID-19 disrupted physical trade. Its unified commerce platform can now pinpoint the stock closest to the customer. Parcels are collected from a nationwide network of 200 stores – each with its own StarTrack account – and delivered direct to the customer.
This strategy can help reduce delivery costs and improve delivery turnaround times.
Simple shifts in online fulfilment algorithms can also help you optimise freight. When we helped a major department store change the logic behind where an order is fulfilled, it saved $1.7million in shipping costs.
2. Fulfilment location
Decentralising or outsourcing your fulfilment can also help you reduce freight costs, provide same-day or next-day delivery to more customers and build in resilience. When assessing these omnichannel fulfilment models, you'll also need to consider the additional working capital tied up in holding inventory across multiple locations.
One nationwide retailer we work with is currently considering opening interstate fulfilment centres. On one hand, it can achieve substantial freight savings by putting products closer to the customer – which will allow the retailer to decide whether to pass those savings on. But there are also additional costs to managing staff, space and inventory across multiple sites.
Click-and-collect can provide a range of benefits, including upsell opportunities and lowered freight costs. It can also help balance the overheads of running retail stores by making your business more attractive via enhanced convenience and choice for customers who want to shop online.
3. Technology
How well do your systems integrate with your suppliers? When freight, warehouse and suppliers can all plug in, you can better share data and insights. For example, stockouts were an issue for some retailers in 2020.
One solution is to add an option to your website that allows customers to choose to be notified when a product, size or colour is back in stock. If your systems have visibility of the manufacturer's supply chain, this entire process can potentially be automated. This helps keep the customer in the loop through the whole journey of their prospective purchase – from factory to front door.
Similarly, integrating with Australia Post's data sources can reduce parcel queries to your customer call centre.
You may also find opportunities to use technology to analyse the true cost to deliver. Technology can also help you analyse considerations such as the margin impact of same-day shipping, or the impact of the buying teams negotiating a better buy price on more units. Make sure buying teams can calculate accurate logistics costs for different product types, including cost of returns.
"Predicting container space has been a massive problem," Anthony told us. "We've got some urgencies, and if we miss a shipment that means we've got to air freight – which means a lot more cost."
4. Warehouse optimisation
During the review process, we can also help you find simple operational improvements to better deliver efficiency through to the customer. For example, waving orders in the warehouse by geography rather than order time allows us to prioritise interstate pick-ups and only sort once at the receiving end. Local metro deliveries can be collected later in the day and still be out for delivery next day.
Smoothing out some warehouse processes during peak can also help you reduce costs in non-peak periods.
Map out your warehouse processes, and look for bottlenecks. Talk to carriers, technology partners and the wider team to remove or reduce these issues. Inventory management is a critical part of this – how can you better use technology for stock forecasting to make sure you're not tying up working capital in seasonal or excess stock?
5. Customer experience
Optimising customer experience in 2021 is all about choice. In terms of delivery, what options can you give your customers at checkout?
For example, we analysed delivery data for one business partner and found 25% of their shoppers live in apartments – which can be challenging for delivery. By offering the option to collect from a parcel locker or their local Post Office, it may be possible to reduce carding rates while still offering a good delivery experience.
It's also important to weigh up whether the majority of your customers really do want it 'free and fast'.
In reality, consumers value delivery choices differently. In 2018, our research found around 80% were quite comfortable with a regular delivery service as long as they have visibility over where their parcel is. 15% might expect an option for express or next-day shipping, and only 5% wanted it same day.3 Since then, regular deliveries have remained consistent at 85% of all Australia Post deliveries in 2019 and 2020.4
If your analysis reveals customers do want express delivery, attach a realistic value to it to make sure it's a sustainable strategy long-term, or consider building a premium into the product price.
Post-peak review checklist
Once you've worked through these five areas you'll have a clearer idea of your priorities for 2021 and beyond. This checklist can also help.
Overview
What was peak like for your business this year? 
What proportion of revenue does it represent in terms of your annual business performance?
What were the top three challenges you faced with peak this year, such as:

Customer satisfaction
Stock levels
Sales revenue
Warehousing and logistics
Returns
Sales Review
Did your marketing strategy work this year? Why/why not?
What would you do differently next year?
Given the extra volumes, did you manage to fulfil your customer promises?
How will you measure success this year?
Service Review

How did your customer service team manage over this period? 
What impact did your supplier service levels have on your business?
Logistics Review
How did your supply chain cope with the peak periods this year?
Where were the bottlenecks? (For example, stock availability, carrier performance, systems.)
What worked didn't work with your logistics plans? For example:


Labour
Processes and systems
Suppliers 
Stock/inventory management

Are you collaborating with suppliers in planning for the next peak?

Future growth
Will your current warehouse support growth and peak in 2021? What's Plan B? (Consider dark stores, geographic expansion, or pop up sites.)
Do you have the right mix of delivery services to meet customer expectations?
What impact will successful customer acquisition strategies have on your supply chain?
What would your business need to change to support the next five years of growth – including warehouses, freight, technology, stock plans, pricing and marketing? 
Are you prepared for supply chain risk events such as bushfires, cyber-attacks or a global pandemic?
Resources to help you adapt your business

Australia Post has partnered with Deloitte to create two useful guides providing insights and tips on navigating the changing business landscape.
The practical workbook and white paper have been designed to help you understand the key to resilient supply chains, build a framework for managing risk, lay the foundation for growth after COVID-19 and more.