Delivering the right experience through peak periods
Are you ready to ride the next wave of online shopping growth? Learn how to prepare and keep customers happy with these practical tips.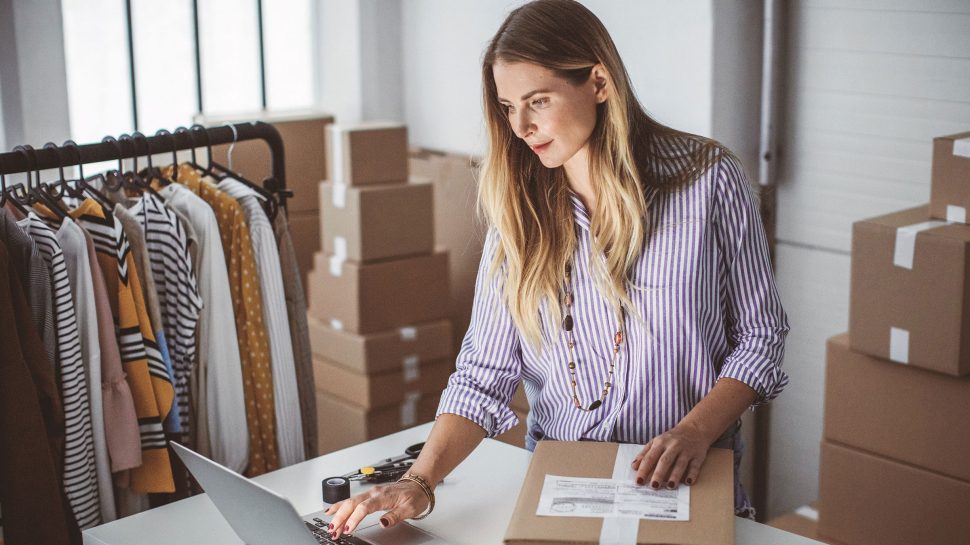 Key points
Transparency and visibility are key to delivering a great customer experience
Let customers choose how, when and where they receive their parcels
Stock up on packaging and labels, and prepare your equipment
Online shopping has surged in response to COVID-19 restrictions. Nationally, online shopping growth for the month of August was 85.3% year-on-year (YOY). By the end of 2020, it is expected that online shopping will account for up to 18% of the total retail market – a number that wasn't expected until 2025.
"Unexpected surges like this can certainly present challenges operationally – such as sourcing additional product quickly, moving product interstate and managing an evolving workforce, just to name a few," says Caroline Good, GM of Customer Excellence Deliveries at Australia Post.
The heightened demand has also put pressure on Australia Post's network. "We've made arrangements to handle more manual processing, opened new or repurposed processing facilities, and recruited hundreds of casuals to assist in managing the continued parcel demand," says Caroline.
As we head toward a peak holiday shopping season unlike any we've seen before, it's important to start preparing now. "When businesses are well prepared, we find it helps our ability to process their parcels more efficiently, and in turn, customers are more likely to have a positive delivery experience," says Caroline.
Australia Post's new resource, Preparing for peaks in online shopping: A toolkit for small business, can help you prepare. Here are five things you can start doing today.
1. Set realistic expectations for delivery
Add up-to-date expected delivery information to your website and emails
Allow for your internal processes within your quoted delivery timeframes 
Visit our Christmas information page for the latest delivery and network information
Be transparent about potential delivery delays

When quoting delivery timeframes to customers, Caroline advises businesses to "allow time for internal pick, pack and lodgement process, on top of Australia Post's delivery timeframe, as this could add an extra few days."

Being transparent about potential delays can potentially reduce time spent handling customer calls. "We find customers are more understanding if retailers are clear with them about the likelihood of parcels taking a little longer to reach them. Transparency and communication are certainly the key here," says Caroline. And if you're sending orders internationally, you also need to consider each country's individual postal restrictions.
Visit our Christmas information page for delivery and network updates.
2. Confirm customers' preferred delivery address
Prompt customers to confirm their delivery address within your checkout process
Give them the option to select an alternative delivery location
According to Caroline, "Some shoppers have their workplace set as their default delivery address. This has caused some issues in 2020, with so many people now working from home." As such, it's worth including an automated message within your check-out prompting the purchaser to confirm their delivery address.
With Australia Post, your customers can also opt to have their parcel delivered to an alternative location – including over 400 Parcel Lockers and a growing number of Parcel Collect locations. It's easy to integrate delivery choices into your checkout process, via our API or widget1; enabling your customers to select from our range of alternative delivery locations.
"We have seen heightened use of alternate delivery options, up 30% year on year in April 2020,"2 notes Caroline.
She also stresses the value of investing in real-time address validation software at the point of purchase, through a simple plug-in or widget with your eCommerce platform, "Address validation ensures customers have provided a valid Australian or overseas address."
3. Give customers visibility of their delivery's progress
Capture customer email and mobile details within your checkout process
Set up automated delivery notifications
Validate delivery addresses in your checkout

If parcels don't arrive within the expected timeframe, customers may become anxious or frustrated. Automating tracking notifications makes it easier to keep your customers informed about the status of their delivery. It may also save you valuable time, that may otherwise have been spent managing customer queries.
Be sure to capture your customers' email and mobile number within your check-out process, so Australia Post can send them delivery notifications via email or SMS. They'll also be able to use Australia Post's free Tracking App to track their parcels, redirect eligible parcels while they're in transit,3 get delivery notifications and more.
After the pandemic hit, Australian retailer Paint Plot moved all of their National and International deliveries to Australia Post, because tracking and visibility was so important for their customers during the pandemic.
"Because Australia Post's tracking system is reliable,4 our customers have visibility of their parcel's delivery progress. That means that our communication with our customers about delivery is now a much easier conversation," says Rebecca Keogh, Paint Plot co-owner.
4. Stock up on packaging, labels and other consumables
Optimise your packaging to potentially reduce delivery costs 
Ensure your packaging is sturdy and safe 
Check printing equipment is working, and labels print clearly

Packaging needs to be sturdy and safe, and by spending a little time planning different sizes around your product variations, you can potentially reduce delivery costs. Using the right packaging can also help take the guesswork out of delivery costs – and ensure you provide customers with accurate pricing for postage. Check out Australia Post's range of packaging at your local Post Office or online.
When orders are flooding in, the last thing you need is to run out of printer ink, barcode labels or tape! "It's particularly important to check your address labels print clearly; because if they're don't, your parcels will still be delivered but won't be visible in our network, and therefore won't be trackable," says Caroline.
5. Build flexibility into your plans
Plan ahead for different scenarios
Have a group of casual staff 'on call' 
Consider using a 3PL service to manage fulfilment
Many retailers are finding it difficult to accurately forecast sales during the pandemic. "We suggest planning for different scenarios," says Caroline, such as what you expect to happen, and what could happen if you underestimate demand on one hand, or overestimate demand on the other.

To adapt to any of these scenarios, you may need a 'Plan B'. That might include casual staff who can be on standby to help you pick and pack during a busy period – without adding to fixed costs, or extra warehouse space to store and process peak inventory.
If you send more than 400 parcels a month, it might be worth outsourcing fulfilment to a third-party logistics provider (3PL). "Australia Post's Fulfilio can store, pick, pack and deliver products directly to your customers – and also handle returns," says Caroline. "It's a good option for small businesses who don't have the scale to run their own fulfilment centre, and want to focus on what they do best: product selection and customer service."
Fulfilio has warehouse locations in Sydney, Melbourne, Brisbane and Perth, meaning your products can be stored closer to customers – potentially reducing delivery timeframe and costs.
Make sure you're ready for the next wave of eCommerce demand – whether that's triggered by predictable seasonal spikes, or unanticipated events.

Download Australia Post's toolkit, Preparing for peaks in online shopping, for tips and checklists to help you keep your customers happy now – and through the next wave of demand.