The right finance fit
Creating a tight-knit community of crafters since 2017, yarn store Skein Sisters saw online sales triple during COVID. Owners Deb McDonald and Janine Smith needed the funds to expand, and Australia Post's business loan referral service, provided by Valiant Finance1, connected them with a finance partner.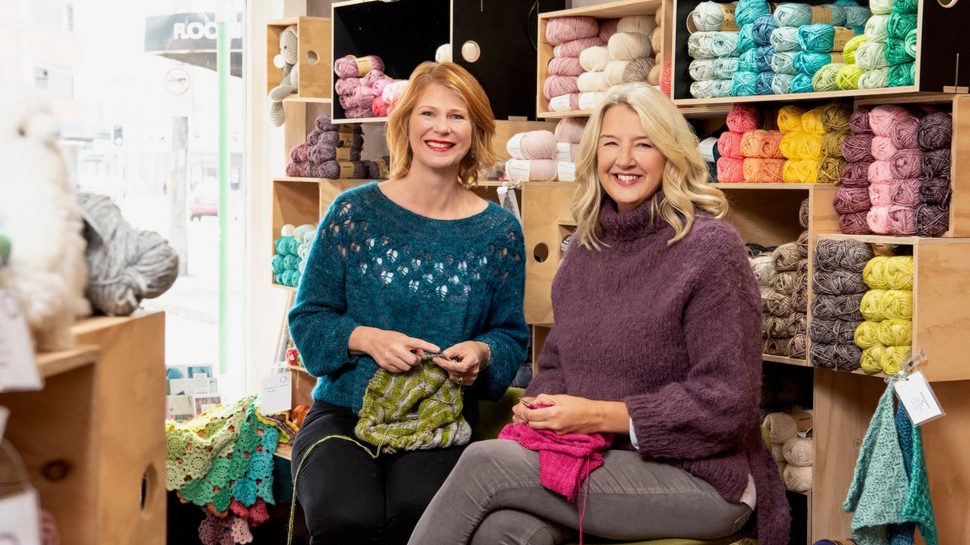 Key points
Skein Sisters saw its online sales triple during Sydney's first COVID-19 lockdown, turning their shopfront into a warehouse.
As restrictions lifted, they needed more space for their online team, classes and other growth projects.
With cash tied up in stock, Australia Post's business loan referral service, provided by Valiant Finance, helped them secure finance.
When Skein Sisters' founders Deb McDonald and Janine Smith met, they quickly discovered a mutual love of knitting, crochet and 'fabulous' yarn. Disappointed with only being able to source speciality yarns from overseas, they decided to open a store together in Dulwich Hill in 2017.
Since then, Skein Sisters has become a haven for crafters. Deb and Janine set out to create a space where people can find the quality yarn they need, but also come together as part of a crafting community.
The response was amazing from the very first week, according to Janine. "We had sofas and chairs – it's a place where people are welcome to sit and make and share their knitting or crochet. As a result, many customers have become friends," she says.
Skein Sisters also runs classes, where people can learn new skills or take their crafting interests to the next level.
Crafting a case for online business growth
As the business grew and more customers wanted to buy yarn or book classes online, Deb and Janine decided to upgrade their website.
"Thankfully, our new website went live in December 2019. Online sales were about one-third to half of our sales by March 2020 – when COVID-19 made it necessary to close the shop," Deb said.
As for so many small business owners, making this decision was a scary prospect. But they were quickly overwhelmed with phone enquiries and online orders, and their closed shopfront became a warehouse.
"The phone did not stop ringing on that very first day, and the online orders were coming in fast. We had told staff we didn't know what would happen and then we were asking them to come back in!" Deb says.
Soaring demand drove need for expansion
A lockdown-inspired home crafting movement accelerated online sales faster than Deb and Janine anticipated. They needed to buy more stock, warehouse it, pack it and ship it – and hire more staff. When the shop reopened eight weeks later, online sales had risen to three-times the shop's sales numbers pre-COVID. They needed more space.
"There were just boxes everywhere! That was our biggest challenge. Finding somewhere to put our online team and products - with a view to building stock levels," Janine says.
The ideal solution became available for lease nearby: a two-level shop and residence.
"We could run the online part of the business downstairs, with plenty of room to store stock. And then upstairs we could have offices, meeting rooms, a dedicated photography room, and somewhere to record podcasts and YouTube videos. So it really ticked a lot of boxes," explained Janine.
The hunt for the right finance partner
The only challenge? Cash flow. The recent explosion in orders meant capital was tied up in inventory. Janine and Deb needed a business loan to expand their business and secure the second lease, fast.
Deb read about Australia Post's business loan referral service, which is provided by Valiant Finance. She decided to make an enquiry on the Australia Post website. They soon found some much appreciated support from Valiant business finance specialist Nick.
"I spoke to Nick from Valiant for about half an hour and he came back the next day saying that he could get us what we needed. We were absolutely thrilled," Deb says.
Since launching the referral service in October 2020, Valiant Finance has been able to connect small business owners with a business loan that suits their needs. Understanding the challenges they face, business owners are linked to a working capital or asset finance specialist, like Nick, who can help them find a lender that's right for them.1
Valiant Finance also guided Deb and Janine through the process, making sure all documents were submitted successfully, right through to settlement. "We were never left wondering about what was going to happen," says Janine.
"Nick had a real understanding of what we would need, he was also enthusiastic about our business and had great knowledge about the needs of a small business. Communication was fantastic, and if we ever had a question he was always at the other end of the phone," she adds.
Since securing the business loan and moving into the new premises, they have been able to make plans for further growth in 2021. Skein Sisters reported their best January sales ever, because they had the funds to stock up for demand – and the space to run summer events and classes.
If your small business needs the funds to expand, Valiant could help you find the ideal lender. Learn more and make an enquiry