A quick guide to sustainability for small businesses
With limited resources and a focus on the everyday needs of running a business, sustainability isn't always top of mind for small to medium businesses. But developing more sustainable products and operations is increasingly important for your future – and it's easier to get started than you may think.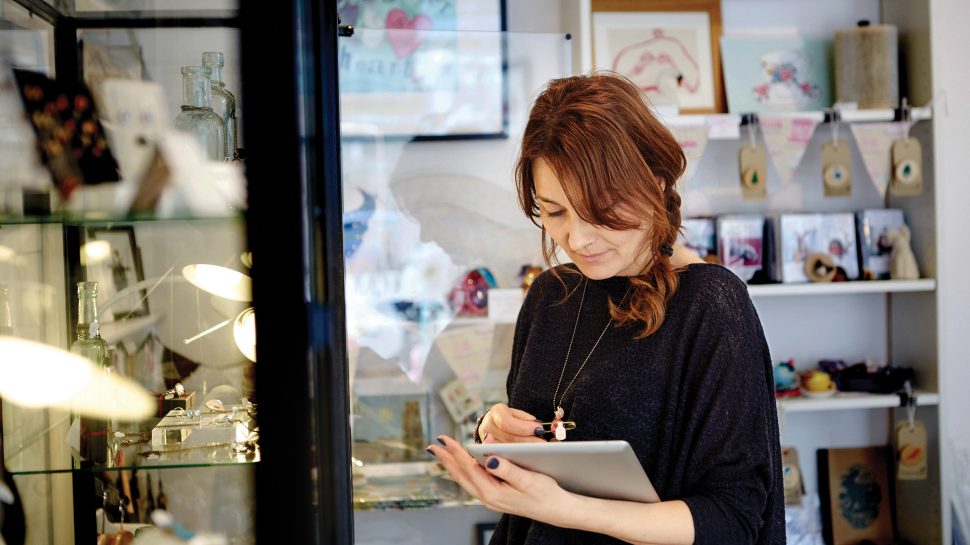 Key points
Sustainable businesses focus on the triple bottom line: people, planet and profit.
Small businesses are stepping up to this challenge: focusing on reducing waste, sustainable packaging and supporting local communities.1
This 10-step roadmap can help you prioritise your business' sustainability objectives.
When you think about sustainability, the first things that may come to mind are packaging and recycling. But sustainability goes far beyond the use and disposal of materials. In fact, it is most aptly defined as "meeting the needs of the present without compromising the ability of future generations to meet theirs."2
Businesses are increasingly focusing on developing more sustainable practices, as this can help them balance purpose with profit, meet the expectations of conscious consumers, and future-proof their business.
"There is no negative trade-off between sustainability and business outcomes," says Susan Mizrahi, Chief Sustainability Officer at Australia Post. "And it's important to keep in mind that sustainability isn't an added expense. It's spending money differently."
The triple bottom line - people, planet, profit
Sustainable practices usually fall under three pillars, sometimes referred to as the triple bottom line: social, environmental and economic – or people, planet and profit.
Focusing on your most important people: customers, employees, suppliers and communities, social sustainability includes considerations such as:
Health and safety standards
Fair labour rights, human rights and no child labour
Equal opportunities, diversity and flexibility
Local community involvement and philanthropic support.
Evironmental sustainability is concerned with reducing your business' impact on the planet, and improving the environment. This may include:
Reducing or offsetting your carbon footprint
Reducing waste, water, and energy used in operations
Reusing and recycling materials.
Centred around how your business makes profit and contributes to the economy, economic sustainability focuses on:
Governance, compliance and risk management
Transparency
Creating employment.
According to certain small business owners,1 some challenges they are currently focusing on include reducing waste, rethinking materials, sustainable packaging, and supporting local communities.
For example, Winya Indigenous Furniture focuses on creating sustainable products. "We're diligent about what we make and produce so that nothing goes to landfill. We turn old desks into new furniture," says Director Greg Welsh. He also deliberately engages with remote communities to preserve culture. "We focus on remote community employment and we use local designers too," he says.
Others partner with sustainable businesses to reduce their impact on the environment. Bioflex Nutrition is a member of the Australian Packaging Covenant Organisation (APCO), and also partners with REDCycle so all packaging can be recycled at the supermarket.
10 steps to sustainability
Although small businesses are not required to report on sustainability performance, many are demonstrating their commitment to the greater good. They understand sustainability is not just an expectation of big business – it is essential to our collective future security and survival.
By building sustainability practices around the triple bottom line, they are also improving operations and building business resilience.
Drawing on the United Nations' Sustainable Development Goals (SDG), a blueprint for rebuilding and regenerating economies, communities and the planet, the following ten steps can help you get started on your sustainability journey.
The following roadmap can be applied by any small business looking to improve their approach to sustainability:
Adopt a principles-based approach to doing business
By adopting the 10 principles of UN Global Compact, you can operate in ways that, at a minimum, meets fundamental responsibilities in the areas of human rights, labour, environment and anti-corruption.
Consider your impacts
Identify negative and positive impacts to mitigate or minimise – identify which goals you can directly influence.
Prioritise what matters
Ask your customers and employees what they care about with a simple survey, and focus your sustainability efforts
Assess your existing practices
A sustainability audit can help you identify opportunities for improvement – try this B Impact Assessment.
Measure and communicate progress
Use the Global Reporting Initiative's Guidance booklet to help you set sustainability metrics and track your progress.
Commit to sustainable packaging
Increase your business and supply chain's packaging sustainability with APCO's framework and resources. And sign their Australia Packaging Covenant to make a public commitment to sustainability.
Build eCommerce capability
Develop a strong online presence through improving shopping experience, learning from data and insights, retargeting and extending your reach.
Partner up for financial sustainability
Partner with a trusted financial advisor or bank for guidance and advice.
Access government support and guidance
Visit the Australian Government's Business website for information about grants, services and support to help you reach your sustainability goals.
Be recognised
Benchmark your business against others and receive recognition for your sustainability efforts through the Banksia Award.
Download the Small business sustainability in a COVID-19 world white paper - developed by Australia Post in collaboration with Banksia Foundation, to learn how businesses like yours are building resilience for the future.