Why easy returns are the perfect fit for Zomp
Established footwear retailer Zomp is known for its boutique in-store experience. So their team never imagined they would focus all their energy on perfecting the online shoe buying experience – addressing customer worries about fit and style by offering free returns. Here's how the offer's success helped them stay on their feet through the pandemic.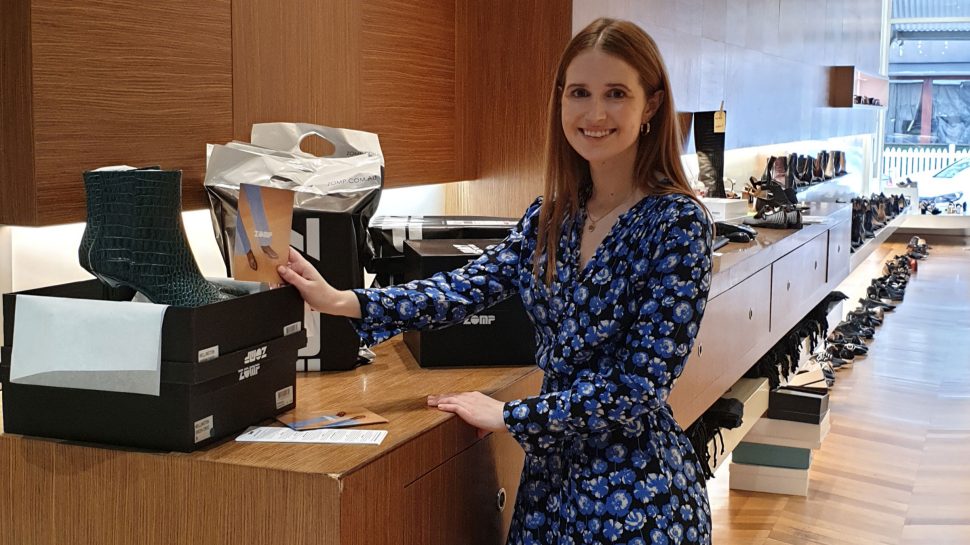 Key points
When Zomp decided to close its four stores during lockdowns, it had to shift focus to eCommerce.
Customers told them return costs were a barrier to buying shoes online.
Trialling Australia Post Easy Returns and live online chat has helped Zomp take their boutique experience online.
When the impact of COVID-19 hit Australia, shoes were certainly not top of consumers' panic buying list. That was evident for Zomp Shoez , which saw sales drop nearly 30% in March 2020.
Over the past four decades, Zomp had established a loyal following for its boutique style and curated range of Australian, international and exclusive in-house footwear collections.
The brand is headquartered in Perth, with four stores across Perth, Melbourne and Sydney including its flagship store on Flinders Lane in Melbourne.
But as the reality of iso-life, social distancing requirements and growing uncertainty affected foot-traffic, the team decided to close its stores for the safety of staff and customers. Its online store would be the sole source of sales.
Zoe Viskovich, Zomp's Finance and Human Resources Manager, admits the business had been "a little late to the eCommerce party," but had established solid growth online over the previous three years.
Now the team needed to create the ideal shoe shopping experience online – one that would replicate the in-store experience by removing as many digital barriers as possible.
"The pandemic really twisted everything on its head," Zoe explains. "It made us look at our online store and think about how to retain our loyal in-store customers. We were also sensitive to the fact our customers now had other priorities, and discretionary spend on shoes probably wasn't top of the list."
Trying on free returns
In late 2019, Zomp had surveyed its online customers about what improvements they'd like to see. "'Reduced shipping and return costs' was overwhelmingly the most common response, and clearly a barrier to online sales," says Zoe.
This echoes Australia Post's research: the growing numbers of online shoppers in 2020 are more concerned than ever about the cost of deliveries, and that includes returns.1 21% of online shoppers say returns are too expensive, and 19% say returns are too much effort.
Zomp's eCommerce Manager Philippa Musso had already been discussing a trial of Australia Post's Easy Returns service to test its impact on conversion rates and delivery costs.2
"Our first priority, once COVID hit, was to make online shoe shopping easier by getting rid of things that would deter customers. So we offered free returns for Australia-based customers and extended our return policies."
Philippa says using Australia Post's Easy Returns portal was "as easy as flicking a switch." "Australia Post has been very supportive throughout. It was so simple and quick to set the returns portal up."
Customers can now log into Zomp's custom-branded returns portal, enter their order ID and receive a postage paid return label. They can print this at home or at their nearest participating Post Office or retail partner, and then simply drop the parcel into one of 20,000 parcel drop-off locations around Australia. These locations are part of Australia Post's Collect & Return network, which includes Post Offices, 24/7 Street Posting Boxes, and a growing network of retail partners such as supermarkets and pharmacies.
"I never thought we'd offer free returns, but it's a level of service that takes our online stores from a basic transaction to something that really meets customer needs," says Zoe.
A wider window for Christmas returns
Philippa says that Zomp has extended its 14 day returns period during the busy Christmas season, giving shoe shoppers extra confidence. She said giving customers a little more time to change their mind complements the free and easy returns philosophy.
"Whether it's to buy shoes to wear during holiday events or as a gift, we wanted to offer that extra assurance with an extended returns period. We want the gift recipient to be able to return their shoes if they're not quite right."
She believes that offering free and extended returns will also help Zomp retain the new customers it attracts over the peak online shopping period.
"It definitely helps the experience when it's so easy to make a return. If you make it too difficult or confusing, chances are customers won't make the return and they'll be dissatisfied. And more importantly, they probably won't return to shop with you again," says Philippa.
Sizing up smarter customer engagement
Zomp promoted the new free returns offer through its social channels, eDMs and online chat – reassuring customers they could still shop with ease.
"We launched a live online chat, using Zendesk, to answer questions and give size or style advice while customers browsed online," explains Philippa. "And we updated our descriptions, giving better guidance on fit."
Online orders started growing, and soon it was all hands on deck: even the head office staff found themselves picking and packing parcels.
"Since April, we've achieved around 15% year on year growth in online sales every month," says Zoe. By August, online sales accounted for 40% of revenue, even though only the Melbourne store was still closed.
The team also re-thought promotional campaigns. "Obviously heels are not having their moment this year. So we ran a very successful promotion on our sneaker category," explains Zoe. They also made their promotional emails more personal.
"We sent images of our staff wearing their favourite shoes for the season, and we got a really good response," says Zoe. "Customers liked seeing the faces behind Zomp – the people working through the pandemic to pack their orders. We're now looking at others ways we can keep customers engaged with the business on a more personal level through virtual tools like chat, Messenger or social media."
Zoe admits it has been a "rollercoaster ride" adapting the business so quickly. "We had to take everything online to drive revenue without having time for strategy or planning to scale the business to cope with volume. But our team has done fantastically well – we're lucky to have so many committed people who have been with us for some time."
She is now excited to look at other ways to help customers find the perfect pair of shoes online. "We've seen lots of new customers place their first orders during this period, and we're ready to grow our base."
One improvement that is likely to remain? Free returns.
"I think it was important to reduce a barrier to sale at a time when there were so many other things preventing people from doing all the things they love," says Zoe.