Stomp, press, ferment: Building a new kind of urban winery
When Cam Nicol discovered an old concrete wine fermenter underneath his house, he teamed up with his wine-maker friends to become the founders of an urban winery in Melbourne.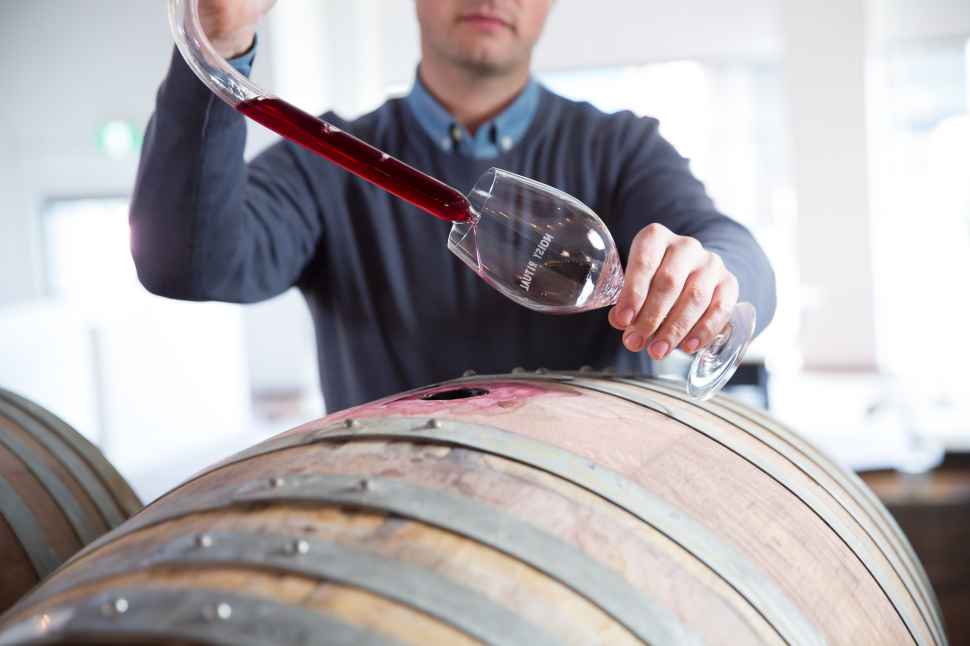 Fun, and a little bit of good luck were the elements that catalysed the beginning of Melbourne's first people-powered urban winery: Noisy Ritual.
When Cam Nicol made the surprising discovery of a concrete wine fermenter under his house, he felt as though he instantly knew what he had to do with the newly found piece of equipment. Together with his wine-maker friends, Alex Byrne and Sam Vogel, Cam immediately decided to put the fermenter to use and started experimenting with backyard wine-making.
Through the pursuit of their hobby, the group of friends founded Noisy Ritual, and are now leading an urban wine-making revival in inner-city Melbourne. Their main goal was to give city-dwellers the chance to understand and be part of making their own wine.
"A lot of it is to do with demystifying the wine making process," says Alex.
"I think people want to know what's behind the product more and more these days, and Noisy Ritual has captured that," says Sam.
From stomping the grapes, through to pressing, fermenting and – a little later – tasting and bottling, Noisy Ritual members take part in every aspect of the wine-making process. It's this sense of community involvement that continues to thrive at the heart of the business.
"We've been, since the beginning, guided by the members, and the people we share the winemaking with," says Alex.
Communities making wine together – it's the oldest of ideas, made new. And by all accounts the process is just as fun as tasting the final product.
"As long as we've got people in here having a good time that's the major goal," says Sam.
Meet the founders and then visit the Noisy Ritual website to see how they mixed a little luck, experimentation, and big focus on their community to create a very different kind of business.
 
Noisy Ritual
Vision: A sign reads, "Noisy Ritual, People-Powered Urban Winery." In a bar, three men sit around a wine barrel. In faded video they duck into a small room that contains wine barrels. Text: "Alex, Cam & Sam, Founders of Noisy Ritual."
[Laidback music plays throughout.]
Cam: Noisy Ritual basically started when my partner and I moved into a house and found a room under the house to make wine in. But when I saw the equipment that was down that was down there, I had no idea what it was for and I think Alex lifted the lid off this concrete fermenter that was under there and saw that it was lined with wax and was like, "Hey, this is not a water tank..."
Alex: A wine tank.
Sam: Yeah. It's a wine fermenter.
Cam: ...which is what I thought it was. But it was a tank that people had been making wine in. You know, having the fortune to know two professional winemakers, I was like, "Bring it on."
Vision: In the bar, wooden wine barrels lie in long racks. On a Noisy Ritual wine label, people dance in an acrobatic circle. Patrons drink around the bar's large wooden tables.
Cam: So we made the first batch of wine out of my place and then we had so much fun doing it that we thought, "Well, that same vintage, let's just run another batch through there."
Sam: There was about 30 people who were like, "Can you do that again?"
Alex: Yeah. Everybody who we told about just said "Well, we want to do that too." So, you know, that kind of led us to think, "Well, maybe everybody wants to do this."
Sam: Yeah. "Let's find some more shiraz grapes."
Alex: Yeah.
Cam: The