We consider the social, ethical and environmental dimensions of our entire supply chain.
Social procurement
Through our Reconciliation Action Plan and Accessibility Action Plan, we're committed to supporting vulnerable groups through social procurement. This means we actively seek to engage groups such as Indigenous businesses and social enterprises in our supply chain.
To do this, we work closely with:
Supply Nation, the leading directory of Indigenous businesses
Social Traders, a specialist social enterprise development organisation that links certified social enterprises with corporate and government enterprises, through their Social Traders Connect program.
Where possible, we always prefer to procure products and services that:
source materials from sustainable or renewable sources and have the appropriate certification
source materials made from recycled content
can be reused or recycled and are appropriately labelled
help minimise our energy and fuel use and carbon emissions
help minimise our water use and waste disposal
Supplier Code of Conduct
Our Supplier Code of Conduct means that all our suppliers must demonstrate a commitment to human rights and fair employment practices in accordance with existing international standards, such as:
the United Nations Universal Declaration of Human Rights
the International Labour Organisation Declaration on Fundamental Rights
the United Nations Convention on the Rights of the Child
Additionally, when evaluating tenders from prospective suppliers, we:
consider the environmental and social impacts over the life cycle of the good or service
integrate the appropriate supplier sustainability performance assessment criteria and weightings into procurement and evaluation procedures
require suppliers of the following services to provide us with carbon reports relating to their operations:

transportation (for example, contracting of road, rail, air and shipping)
data centre providers
business travel
Supply chain sustainability
To help us manage ethical and responsible practices in our procurement process and supply chain, we've introduced the Sedex (Supplier Ethical Data Exchange) system. This secure, online database allows us to view, manage and report on information about our suppliers in four key areas:
labour standards
health & safety
the environment
business ethics.
Additionally, over the 2016/17 financial year we'll:
undertake risk assessments of our top-tier suppliers
integrate findings into a supplier governance framework
introduce a pre-qualification questionnaire for prospective suppliers
conduct spot audits across high risk suppliers
design a remediation process for any issues raised
Minimising waste throughout our supply chain
As a large eCommerce business, we've got a clear responsibility to minimise waste created along our supply chain and through our business operations.
To demonstrate this commitment we:
are signatories to the Australian Packaging Covenant and have an associated action plan outlining our commitment to reduce the environmental impacts of packaging related to our business activities
will continue to work with our community partners and stakeholders on local reuse, repurposing and recycling solutions for surplus materials, such as uniforms
will continue our product stewardship programs with partners such as TerraCycle, Cartridges 4 PlanetArk, Mobile Muster and Licensys which allow customers to return and recycle products such as post bags, printer cartridges, mobile phones and licence plates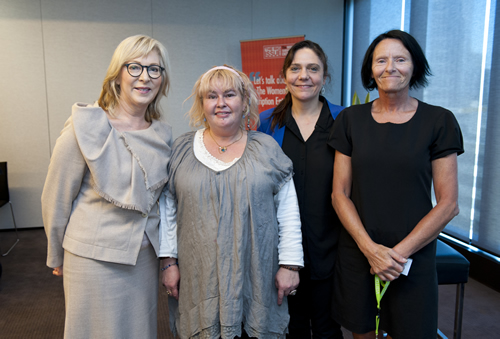 (From left to right) Sonya Clancy, Chairman The Big Issue, with Andrea Pearman, General Manager Marketing & Community; and employees from The Big Issue's Women's Subscription Enterprise at The Big Shift Event held at Australia Post.