Our sustainability commitments
We're an active supporter of leading national and international sustainability initiatives, including:

Australia Network on Disability (member since 2004)
Australian Packaging Covenant (a signatory since 2002)
Carbon Disclosure Project (since 2015)
Catalyst (member since 2015)
Diversity Council Australia (member since 2010)
Earth Hour (supporter since 2007)
Equal Employment Opportunity Network (EEON) (member since 2016)
Global Reporting Initiative (reported in line since 2010)
London Benchmarking Group (member since 2009)
National Association of Women in Operations (NAWO) (since 2010)
Reconciliation Australia - Reconciliation Action Plan program (member since 2011)
Safety and Rehabilitation and Compensation Licensees Association (SRCLA) (President representation & member since 2009)
Social Traders Connect (member since 2015)
Supply Nation (member since 2010)
United Nations Global Compact (signatory since 2010)
UN Sustainable Development Goals
Our sustainability awards
Some of our awards and achievements that represent our long-standing commitment to corporate responsibility include:
2016: Australian Packaging Covenant Award in recognition of our performance against our peers
2016: AHRI Indigenous Employment Award finalist
2016: Graeme Innes AM Award finalist for Disability Employment
2016: CommsCon Award finalist, 'Best government relations campaign - Your Post is Evolving'
2015: Banksia Large Business Sustainability Leadership award for environmental sustainability.
2015: Carbon Disclosure Project - awarded a 98B response score
2015: Property Council of Australia's Innovation and Excellence Awards 'Best Sustainable Development - Existing Buildings' for the Australia Post StarTrack House Sydney. The first refurbished building in Australia to receive triple 5 Start Green Star certification for Office Design, Office As Built and Office Interiors categories
2014: Ranked 10th in the Randstad Award for the most attractive employer in Australia.
2014: Awarded a 5 Star Green Star - Interiors certified rating from the Green Building Council of Australia (GBCA) for our South Australian corporate headquarters
2014: National Disability Awards finalist for our disability-awareness film, Work Mate.
2014: Comcare Work Health and Safety awards winner - Category 4B 'An individual with responsibility for WHS as part of their duties'
2013: Australian Human Resources Institute Award for Workplace Relations in recognition of our strategy to deliver our first back-to-back enterprise agreement
2013: The Energy Efficiency Council and Energy Users Association of Australia awarded Australia Post the Leading Energy User Award 2013
2010: ACCSR recognition as the "most improved organisation" over a one-year timeframe
2009: Awarded Diversity@work's Overall National Diversity and Inclusion Champion Award in the large organisation category
2009: World Mail Awards' finalist, Corporate Social Responsibility category, for our adoption of an enterprise-wide strategy
2009: Scored above average in International Post Corporation's Environmental Management system survey
2007: New South Wales Violence Against Women Prevention Award for our work in the prevention of violence against women
2006: Together with Opera Australia, received the Australian Business Arts Foundation Qantaslink Regional Award, recognising our commitment to taking opera to thousands of people in regional Australia
1998: Awarded Banksia Award in the Government category for our environmental leadership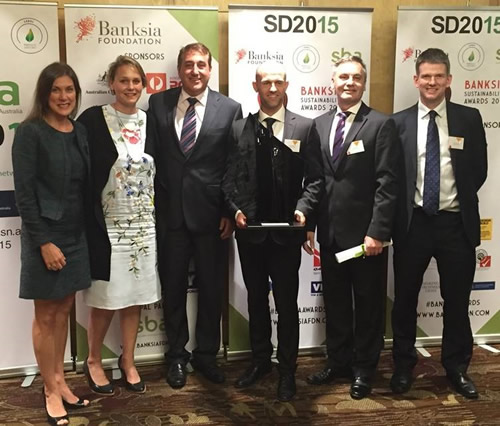 Australia Post representatives (from left to right) Susan Mizrahi, Head of Corporate Responsibility; Monique Halliday, Sustainability Implementation Lead; Michael Tenace, General Manager Procurement & Environment; Andrew Sellick, Head of Environmental Sustainability; Laz Cotsios, EGM Group Business Services; and Peter Shelley, Energy, Carbon & Fuel Lead at the Banksia Sustainability Awards 2015.